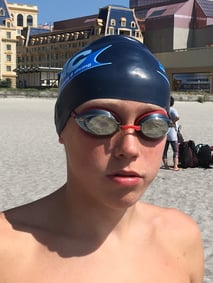 As families in Pennsylvania close their pools for the off season, many students won't even think of swimming until the weather turns warm again. For PA Virtual junior, Matthew Bonnell, he doesn't ever stop.
Matthew swims competitively and is in the pool 6-7 days a week for practices. No matter the weather, his competitive forte is open water swimming – meaning lakes, rivers and even the ocean. Two-a-day practices keep him in the water for about four hours a day, and his workout regimen also includes other conditioning and strength training. As a junior in high school, how does Matthew balance his demanding training with school? By attending PA Virtual Charter School, Matt has the flexibility to complete his studies whenever and wherever he can.
Matt has been with the school since kindergarten, and his older sister graduated as a member of the Class of 2016. His mother, Jennifer Bonnell initially wanted to homeschool her children, but wanted the additional structure and accountability of a recognized curriculum, as well as the assistance of certified teachers. Matt's youngest brother was enrolled at PA Virtual through 7th grade, but the family realized all of their children have different learning styles and Jonathan was better suited for the traditional brick and mortar environment.
PA Virtual provides rigorous curriculum to families who want to learn from the comfort of their own home or for students who need the flexibility to pursue outside talents – like swimming. All three of the Bonnell children swim recreationally, but a few years ago Matthew entered the competitive arena. In the last few months, Matthew swam six events at the Eastern Zone Long Course Championships in Richmond, Virginia and the Eastern Zone Open Water 5K in Atlantic City, where he finished 2nd. He won all six events at the Richmond meet. His finishing times qualified him to swim at the 2018 Open Water Junior Nationals (under 16) and 2018 Open Water Nationals, both of which will take place during the school year.
"PA Virtual gives Matthew the opportunity to swim competitively, but not make any sacrifices when it comes to his school work," said his mother, Jennifer Bonnell. "We have been able to find a balance for our family and they have excelled academically."
Regardless of a rigorous practice and meet schedule, Matt maintains top grades. He is a member of the National Honor Society and the PA Virtual Scholars' Academy. Matthew plans to swim in college at the Division 1 level and study physical therapy. He became interested in physical therapy after recovering from his own exercise-induced injuries due to swimming. He suffered from the overuse of certain muscle groups, a common condition faced by competitive swimmers, which forces them to limit their training and growth.
For more information on the challenging academic curriculum at PA Virtual, click the button below.