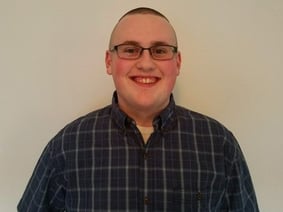 The 2017 school year just came to a close and for one student, it means the era of a new adventure!
Greg Whalen of Coatesville, is one of the few PA Virtual graduates who has decided to enter military service. Since the age of 12, Greg knew he wanted to be in the military. He considered all branches, but eventually chose to follow in the footsteps of his father and selected the US Air Force. Greg's grandfather was also military, serving in the US Army. Under the current GI bill, once Greg finishes his time with the Air Force, he will be able to build upon the skills he learns with the military at a college or university of his choosing.
Greg and his sister, Katelyn, (Class of 2015) started school at a private Christian school that was not close to home. Ultimately, the long daily drives took a toll on the family, and forced the Whalens to consider other options. The local school district did not appeal to the family so they opted to try a cyber school when Greg was in second grade. They bounced around for two years, before finally selecting PA Virtual and enrolled Greg when he was in fourth grade.
Over the years, Greg and his sister were both very active in their church while also volunteering at a local hospital. As they got older, both got part time jobs, which they were able to balance given the flexibility of cyber school. To Greg, the curriculum offered at PA Virtual was challenging, but not so much so that the course load was impossible.
"PA Virtual taught me to manage my own schedule and hold myself accountable," said Greg. "I also learned what I'm really capable of – if I understand an assignment, I can complete it quickly and move on without having to wait for the rest of the class to finish."
Currently, Greg is still going through the recruitment process which will take him the duration of the summer to complete. He anticipates entering basic training in the fall. The 8.5 week Basic Training for new Air Force recruits takes place at Lackland AFB just outside of San Antonio, Texas.
His advice for PA Virtual students: "Take advantage of every opportunity and learn as much as you can, as cyber school gives you the flexibility to do so much with your education."
He also would advise students who are new to cyber school to not be afraid to ask questions. "Teachers can't always see your face to recognize if you are struggling with a concept in class. Don't hesitate to send an email with a question. PA Virtual teachers are always there to help their students the best they can."
PA Virtual wishes Greg the best of luck as he enters the Air Force and thanks him for his choice to serve.