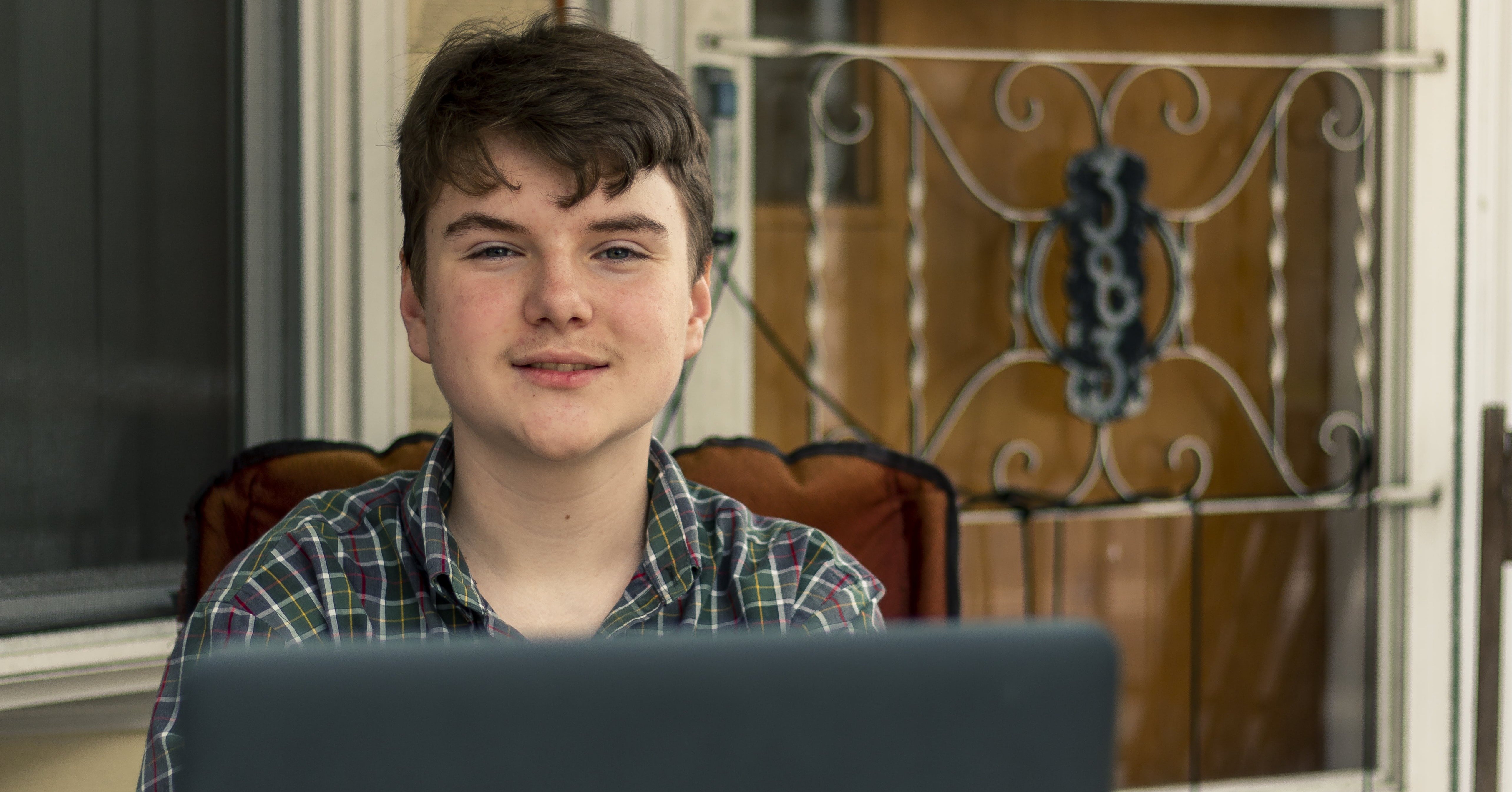 Subscribe
Should I Take High School Online?
About Cyber Education | Cyber High School
Gone are the days where the vast majority of students in a town attend the same high school based simply on their addresses. Though some students may have attended a private school, the price of tuition put the option out of reach for most families. With such limited choices, students and families were caught between their local school district and the high prices of private school. Fortunately, today, students have tuition-free options.
You may be curious about whether attending high school online is a good opportunity for you. Look through the information and questions below and ask yourself if an online high school is a good fit for you.
First, let's start with some basics.

What is a cyber charter school?
To understand what a cyber charter school is, it may help to first understand the definition of a charter school. A charter school is a public school where families choose to send their children for a variety of reasons. The National Alliance for Public Charter Schools explains that charter schools are part of a school district, but are not bound by some of the same regulations. Therefore, charter schools operate independently from the school district and have the "…freedom to design their classrooms to meet their student's needs."
A cyber charter school functions like any other charter school, except all of the instruction is provided through online courses via a computer. Classes are still taught by state-certified teachers. With the course work and instruction being carried out online, cyber charter schools add a great deal of flexibility to their students' and families' lives.
Are there tuition expenses to attend a cyber charter school?

No. Cyber charter schools are tuition-free public schools, so you will have no expenses beyond the usual school supplies you might choose to buy if you attended school at your local district. In fact, all computers, books, curriculum, and necessary materials are provided by the cyber charter school.
Do colleges and universities accept diplomas from cyber charter schools?

Yes, diplomas earned at a cyber charter school are accepted at post-secondary institutions just as they are from your local school district. Students who attend cyber charter schools have attended some of the finest colleges and universities in the country, including Ivy League universities. At PA Virtual Charter School, the Class of 2020 was offered $1.2 Million in scholarships.
Now that you have some of your initial questions answered, you may want to explore cyber charter schools in more detail, such as the types of courses offered, schedule flexibility, parent/guardian involvement, and more. Though each cyber school varies in some aspects, many of the core functions and daily routines are fairly similar. If you are considering a cyber charter school, you will want to select one that will fit your needs and lifestyle.
Have you struggled with courses at your local high school?


Are you a student who has struggled with your high school courses? Many times a student who has difficulty with their course work does not qualify for special education services at their local school district, and does not receive any accommodations or supports to help them. As struggling students' grades start to drop, feelings of being overwhelmed, frustrated, and anxious can become difficult to control.


To combat these issues for stressed students, many cyber schools have personalized learning plans. These plans allow students to take courses at the levels that are appropriate for their skill level in any particular subject. For example, if a student entering 7th grade needs a 5th grade math course and an 8th grade language arts course, that can be easily done. The student is not forced to take all 7th grade courses when they are having difficulty in one course, but excelling in another.


If it is suspected that a student may have special education needs, either a deficiency or area of superiority, schools will look over all data from the student's previous school. If there are any tests the school still needs to help the special education team make a determination of eligibility, they will be administered to the student. If a learning disability or area of superiority is identified, then the student will be placed with the appropriate special needs teams, and the appropriate plans created to help them succeed.


Do you find that your high school classes do not challenge you?

Just like students who may struggle with various course work, there are plenty of students who feel as though they are not challenged by their school. If you feel bored by your classes, or they seem too easy for you, then a cyber school may be a good option. Just as those students who need help because they are struggling with their classes, students who need more rigorous course work are able to take what they need as well. Again, because of the personalized learning plans at most cyber schools, students who need to take more difficult classes are able to do so.


Cyber schools offer enrichment opportunities, courses, and options for advanced learners. Most cyber schools offer Advanced Placement courses that are approved by the College Board. These courses offer the students the chance to take the AP exam for each course that they take. If students do well on these exams, then they have the opportunity to earn college credit at the college or university that they choose to attend. Additionally, some cyber schools offer students the chance for early graduation. Since students can often work at their own pace and at varying levels of course work, early graduation is one of the major benefits to a cyber school education.
Do you need a more flexible school schedule?

For students who need a more flexible schedule, cyber schools offer different course structures that can provide much more freedom than traditional brick-and-mortar schools. Most cyber schools offer a combination of synchronous and asynchronous courses.


You may be asking what the difference between the two types of courses is. It is quite simple. Synchronous classes are live classes that you attend on specific days and times much like a regular school schedule; however, the major difference is that you attend class online. For asynchronous classes, you do not have a specific day and time to meet. You may have to attend office hours with your teacher to touch base and to make sure that you are keeping up with your work, but there is no live class to attend.


Being an asynchronous student can be beneficial to students who have many extracurricular activities, such as sports, performing arts, and jobs. However, to be an asynchronous student, you must really examine your work habits in general. If you know that you are not a motivated learner then registering for asynchronous courses may not be the best decision for you.


Asynchronous classes seem quite tempting because of the freedom that they offer. However, there are still assignments that need to be completed by various due dates and lesson plans that need to be followed. If you are not an organized and motivated student, it is very easy to procrastinate and ultimately fail an asynchronous course. If you know that you are typically a procrastinator, then taking synchronous courses is probably a better choice. Being in a synchronous class you still have much less time restriction than a typical school, but you are less likely to fall victim to the temptation of postponing your assignments.
Are classroom distractions impacting your schoolwork?

Do you find yourself being distracted by the drama that inevitably happens in the hallways of your brick-and-mortar school? Are there students who are bothering you in class? There are so many outside interferences in a typical high school that they can become a serious problem and affect your ability to learn. Since you can choose your own learning environment in a cyber school, you can find the best location for your personal learning style.
Do you have a parent or other adult available for support during the school day?

Though most high school students are capable of being home on their own and attending their scheduled classes, statistics demonstrate that students are much more successful in cyber school when there is an adult at home who can help with various issues that may arise throughout the day.
PA Virtual Charter School uses an approach that incorporates an adult in the home as a Learning Coach. The Learning Coach is there to ensure that technical issues are resolved in a timely manner, making sure that you are attending your classes, and checking to confirm that assignments are submitted on time to help to create a more successful learning experience. The Learning Coach stays in contact with teachers and Family Support Coordinators if the student is ill or has a family emergency, and is a true partner in the learning process.
Why are you interested in online schooling?

If you want to attend cyber school because you believe that it is easier than your local school district—it is not. Cyber schools must meet all of the same state standards as your local school, but simply follow a different learning model. In some ways, cyber school can be more difficult for you if you are not a motivated, organized learner. You must really examine why you want to make a change to a cyber school and think about the responsibilities you will be expected to take on in this learning environment. If you know that you are a driven person and have supportive adults to help guide you, then this may be a great educational opportunity for you.
Want to Learn More?
To learn more about attending a cyber high school program, check out our blog post: How Does Online High School Work?

If you think the cyber model would be a good fit for you, we invite you and your family to join us at an upcoming Online Open House where you will get to experience our virtual classroom first-hand and see how online learning works. You'll get a demonstration of the technology we use, and of course you will get to meet staff here at PA Virtual Charter School and a get a chance to ask any questions you might have.