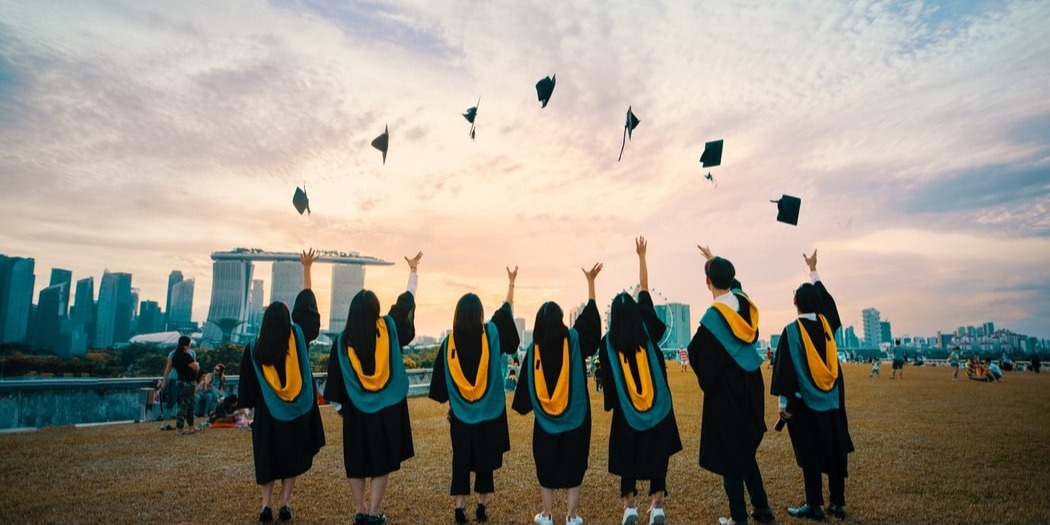 Subscribe
Do Cyber Students Go to College?
Do cyber students go to college? The short answer - YES! Just like many high school students, cyber school students DO go to college after they graduate. Parents often wonder how their child's school will prepare them for post-graduation success, no matter which model of education they choose. In this post, we will explore how cyber students prepare for college, the resources available to PA Virtual Charter School students, and the success of our students.
Cyber Students Have Same Requirements for Graduation
Cyber charter schools are public schools that provide more freedom and flexibility than a traditional brick-and-mortar school. Cyber charter schools monitor and track student attendance, participate in state-mandated testing, and are held to the same state and federal standards as their local district counterparts. This means students at cyber charter schools must earn 21 total credits in state-mandated subject areas, meet the state Keystone Exam requirements, and complete a graduation project.
Cyber Students are Well-Prepared
Cyber charter school students are well-prepared for college. By engaging in online learning, students learn valuable skills in time management, organization, and accountability. Students also learn how to meet deadlines while working independently and the importance of self-advocacy and speaking up when they have questions. These are all very important skills that will easily translate to a college setting.
Students at cyber charter schools are also comfortable and well versed in technology. They are familiar with tools like online learning management systems, discussion boards, webcams, microphones, and email, which are all frequently used in college courses.
Cyber Students Have Opportunities to Get Ahead
If students are looking to take it one step further as they prepare for college, PA Virtual has Advanced Placement (AP) courses, an Early Graduation program, and encourages job shadowing as a part of the graduation project.
Advanced Placement (AP) Courses
The AP Program offers college-level courses to high school students. After completing the AP course through school, students have the option to take the AP exam in that subject, which can often be used to earn credits and accelerated placement in college. AP classes are a great way for students to challenge themselves, earn college credit, show rigor on their high school transcript, and improve their overall college-readiness. AP classes are known to improve writing skills, as well as strengthen student's critical thinking and problem solving abilities.
Early Graduation Program
PA Virtual Charter School's Early Graduation program gives the opportunity for high-achieving students to graduate one year early. Interested students are encouraged to review the program requirements early to begin preparing, and applications are available during the Spring of a student's 10th grade year.
Job Shadowing
Many PA Virtual students choose to complete a job shadowing experience as a part of their Graduation Project. Job shadowing is a great way for students to explore different careers, gain knowledge of the tasks associated with different jobs, and make informed decisions regarding college majors and career paths.
Guidance Department Offers Supports
High School Counselors play an essential role in helping students prepare and plan for post-secondary success. School Counselors at PA Virtual work with students to identify college and career options, navigate the college application process, and explore financial aid. In order to ensure every student has access to relevant and timely college and career information, the School Counselors utilize live presentations, a post-secondary handbook, monthly newsletters, and Naviance Student. All 12th graders will also have a mandatory Senior Review meeting, where they meet one-on-one with their School Counselor to review their personalized goals and determine the necessary steps to achieve those goals.
Presentations
The High School Counselors host many live presentations throughout the school year. After the presentation material is covered, there is time for a question and answer session so students and parents can ask any questions they may have. Here are just a few of the presentations hosted during the 2018-2019 school year:
An Introduction to the College Application Process for Juniors
College Application Process for Seniors
Financial Aid & FAFSA Overview
Naviance SuperMatch College Search
Overview of the Pre-ACT, PSAT, ACT, & SAT
PHEAA Financial Aid Night
Test Taking Tips
Utilizing Naviance Student
Virtual College Tours
Vo-Tech School, Military, & Workforce
Post-Secondary Planning Handbook
All PA Virtual students and parents will have access to a comprehensive Post-Secondary Planning Handbook. The handbook was designed to help students connect their high school education to their post-secondary plans. It serves as a resource to assist with all aspects of the post-secondary planning process. The handbook covers standardized testing, grade level timelines for planning for college, an overview of the college application process, NCAA information for student athletes, financial aid and scholarship resources, and information on additional post secondary options (such as the military, career-technical schools, the workforce, and gap years).
Monthly Newsletter
The Counseling Department publishes a monthly newsletter with important dates, events, articles, and resources. Each month, the newsletter features new scholarship opportunities, college application and financial aid application deadlines, upcoming college fairs, SAT/ACT testing dates, test prep resources, and so much more.
Naviance Student
PA Virtual utilizes Naviance, which provides students with access to comprehensive career and college planning resources, scholarship opportunities, summer enrichment programs, and more. Below are some of the great ways our students utilize Naviance:
College Planning
College Major Exploration: This tool helps to inform students of the career options related to various areas of study.
SuperMatch College Search: A great way to find a college that fits a student's profile is to use the Naviance SuperMatch College Search tool. Students can use over 20 search criteria to find the best match for them.
Scattergram Tool: This tool provides students with information about their likelihood of being accepted to a specific college based on GPA and test score data.
National Scholarship Search Tool: Complete a short questionnaire to get matched with scholarships. As of January 2020, Naviance had a database of over 3.5 million scholarships worth more than $18 billion.
Career Planning
Complete the Strengths Explorer: Strengths Explorer will help students uncover their talents and reveal their potential strengths. From there, students will have a new self-awareness and can plan to make the most of their talents in their future career.
Complete the Career Interest Profiler: This is a tool that can help students discover the types of work activities and careers that match their interests.
Explore Careers and Career Clusters: This is a great way to find a career match, especially if a student has general areas of interest but are not sure what specific careers match those interests.
Create a Resume: Naviance has an interactive resume builder that helps students create a professional resume, including education, volunteer, extracurricular activities, awards, references, and more.
Senior Review Meetings
All seniors will have a mandatory individual meeting with their School Counselor to review their progress towards graduation and discuss their post-secondary plans. Their School Counselor will provide resources determined by their future plans. Resources may include information about college applications, community college admissions, financial aid, career-technical education programs, or entering the workforce.
When students are ready to submit their college applications, PA Virtual School Counselors will be available to assist just like guidance counselors would be in a traditional brick-and-mortar school. School Counselors send transcripts, school reports and profiles, and a letter of recommendation for students as a part of the college application process.
We're Proud of Our Students!
Each Spring, right before school gets out for the summer, the High School Counselors host a virtual College Decision Day Assembly. All our seniors are invited to share where they'll be attending college. Everyone wears their college gear, and students, teachers, and staff happily cheer everyone on!!
Here are some of the most popular colleges for our PA Virtual students:
Arcadia University
Bucknell University
Carnegie Mellon University
Community College of Philadelphia
Drexel University
Emerson College
Gannon University
Harrisburg Area Community College
Hofstra University
Indiana University of Pennsylvania
Lehigh County Community College
Montgomery County Community College
Northampton County Community College
Penn State University
Seton Hall University
University of Miami
University of Pennsylvania
University of Pittsburgh
Vanderbilt University
Virginia Tech
Additionally, PA Virtual graduates from the Class of 2018 and Class of 2019 received nearly $2 Million in scholarships!
Conclusion
According to the National Center for Education Statistics, it's estimated that nearly 17 million students enrolled in undergraduate college programs in Fall 2019, so it's clear that college is a desired path for many high school students. Whichever path a student takes in high school, the hope is that they will have a team of supportive people to guide them through the college application process. At PA Virtual Charter School, we have High School Counselors who are excited to work with students to identify college and career options and to navigate the college application process.
If you are a high school student looking for more information about cyber schooling, check out our blog post Should I Take High School Online?

You can also learn more about our online high school program here or if you'd like to learn more about how cyber charter schools work, we invite you to check out our Ultimate Guide to Attending a Cyber Charter School in PA. This guide will help you weigh the pros and cons of cyber charter schools and help you decide whether the cyber model might be a good fit for you. This guide shows examples of curriculum, and includes an extensive comparison of all cyber charter schools in Pennsylvania, and much more.
About the Author: Molly Austin is a PA Virtual Guidance Counselor for students in grades 9-12.