Subscribe
Behind the Scenes with a Cyber School Assistant Principal
About Cyber Education | Insider Perspectives
What's it like being an assistant principal at a cyber charter school? We're celebrating Assistant Principal Appreciation Week with this insider's view from Ms. Afshari, whose experience spans brick-and-mortar settings, teaching in a cyber school, and now administration!

---

A high school student in Pennsylvania spends an average of 6 hours and 26 minutes per day for 180 days out of the year for four years of school.
That's 277,920 minutes or 16,675,200 seconds between the ages of roughly 14 and 17 spent on secondary education, and that doesn't include homework or other school activities. It's a lot of time! As a teacher and administrator, I have had the pleasure of walking alongside students through the ins and outs of their teenage years, and I genuinely love it. Allow me to give you a behind-the-scenes glimpse into my life at a cyber high school and tell you what you might expect to find from your child's teachers, principals, and more.


The High School Experience
Combined with the typical worries of young people — such as friendships, navigating social media, future planning for post-secondary education or career, part-time jobs, learning how to drive, and self-discovery in general — the four years of high school are rife with activity and thought, some pleasurable, others stressful. A cyber charter student often avoids some of the stressors, including a reduction of wasted minutes typically spent on travel to and from school and downtime at the start and end of each in-person class. I was a teacher in both middle and high school at a cyber charter for 13 years before becoming an Assistant Principal three years ago, and I had had eight years of teaching experience in brick-and-mortar high schools. This perspective has provided me with firsthand knowledge about the benefits of being a cyber charter high school student.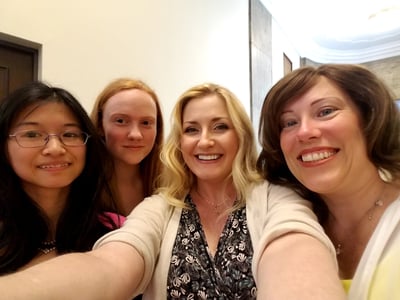 (L-R): Class of 2020 Graduates Laurel and Elliana with Ms. Afshari and Ms. Burke

A Day in Cyber High School
While a typical high school student may feel trapped in an endless loop of the same day lived over and over, a cyber charter student has flexibility that results in no ordinary days. The same holds true for a cyber charter administrator. Each day brings new tasks, challenges, and opportunities to connect with staff and students. Given the benefit of not having to wake at 4:30 a.m. if I want to get a workout in before preparing to head to a school building, I can begin my day at a more reasonable hour, easing into my day however I'd like before sitting down just before 8 a.m. and mapping out the trajectory of the day.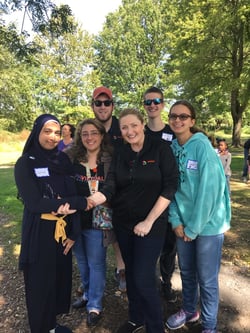 (L-R): Wania '21, Ms. BuAli, Mr. Wernick, Ms. Afshari, Eli '21, Sarah '24
While students head to the first period before it starts at 8:10, I typically check on teachers' lesson plans, reading through the objectives set for students that day and ensuring that the standards align with instruction and assessments. I review teacher notes about 9th-grade students who may be struggling in a course and dig a little deeper to learn what those reasons may be. This often results in me sending an email to Learning Coaches, wishing to set up a good time for a phone call to discuss how I, as an administrator, can help students be more successful. Sometimes, my review of students results in cold calls home, and I value the time Learning Coaches give me, delving into the particulars of a student's strengths and weaknesses and developing potential solutions to obstacles.
My favorite task is speaking directly to students and learning about their experiences and future goals. Sometimes, knowing that a student despises writing but loves math and wants to become an accountant results in a forward-thinking discussion. I may arrange targeted support in writing and make suggestions for future math courses and electives to support career goals. Building relationships with students may have been easier to do as a teacher. Still, I have found ways to connect with students and their families through written communication and phone calls, and I am grateful for those opportunities. With state testing season fast approaching, I look forward to seeing them in person, putting faces to names, and being able to share some smiles.


Four-Year Reflections
High school, for me, was four years of highs and lows, with my happiness seemingly hinged on the status of my social relationships. Conflicts with friends often resulted in class time becoming nothing but a blur as I replayed interactions over in my head, wondering what I could have said or done differently to produce a more favorable outcome. The only classes that could bring me out of my reverie were literature, writing, history, and chorus. Since grade school, I had creative and engaging humanities teachers who encouraged my skills as a writer and analyzer of written words. After having Mrs. Eleanor Pfeiffenberger in both fifth and eighth grades, I knew I would become an English teacher because I wanted to inspire kids the same way she had inspired me. Teaching high school was the only option I entertained, as I always gravitated toward older people. In high school English classes, I continued to have the liveliest, most in-depth discussions that I can still remember 30 years later. From Mr. Knutsen standing on his desk reciting Shakespeare to Mrs. Altland asking me to write for Nexxus, the school literary magazine, the fond memories revolve solely around English classes.

When I became a teacher at PA Virtual in 2005, I modeled my teaching instruction after the exemplary teachers I had. I knew that I would need to be even more engaging and memorable to make up for the fact that my students were on the other side of screens and that I was coming to them from a great distance. Fortunately, my students responded to my pedagogy as an online educator, and I made the most out of the robust curriculum, supplementing when I needed to and stretching my students' capacity. We created a true class community, which led to many of us traveling across the state to see each other at outings and even planning separate get-togethers over the summer. I still keep in touch with the PA Virtual students I taught years ago, and I can only hope they regard me as favorably as I do my own high school teachers.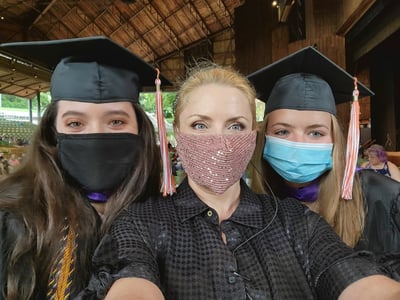 (L-R): Alyssandra '21, Ms. Afshari, Camille '21

A Community of Cooperation
Connection and collaboration were critical factors in my success as a teacher. They remain vital ingredients in my role as an assistant principal. Cyber charter school staff live scattered throughout the state, but we are in sync with each other, having regular meetings to discuss the curriculum and how to move students forward. Administrators, teachers, and other staff members know that our success as a school comes from the collective effort of everyone involved, not the least of which is the collaboration we have with our Learning Coaches and families. One only needs to attend a face-to-face outing anywhere in the state, a beginning of the year picnic, or the end of year graduation to witness the unique connections between all stakeholders. So strong is our collaboration with parents that graduates often opt to have their Learning Coach walk the graduation stage alongside them as a symbol of the partnership built throughout their years of learning here.

We learn why families chose to attend PA Virtual. There are many reasons, but a common one is they felt disconnected from their prior educational setting; their children seemed to be treated the same as everyone else despite their unique talents and personalities. They think their children have a personalized learning experience by coming here and feel part of a more extensive network of support that goes beyond academics. Whether it is young students developing their communication skills or older students considering their post-secondary plans, our students enjoy this public, tuition-free alternative to traditional schooling that allows families to maximize their time at home together before graduates move on to the rest of their lives. In the high school, which is my home base, it is our hope that our students look back on their time here favorably, being able to recall the names of their favorite teachers and recounting moments in time that made a difference. We hope they will forever be #PAVIRTUALPROUD.

If you'd like to learn more about cyber schooling, we invite you to check out our Ultimate Guide to Attending a Cyber Charter School in PA.

About the Author: Laura Afshari is an Assistant Principal in the high school at PA Virtual.
---
Photos courtesy of: PA Virtual and Laura Afshari