Subscribe
20 PA Virtual Student Success Stories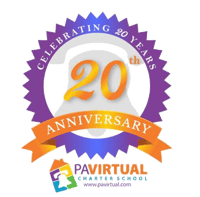 In continuation with our theme of "lists of 20s" for our 20th anniversary celebration, we wanted to highlight some of our awesome student success stories in today's blog post. We reached out to our teachers who provided many great examples of all the awesome things our students, both current and former, have accomplished both inside and outside of the classroom. Keep reading to learn about some of the achievements of current and former PA Virtual students!
A team of three high school students were chosen as Regional Winners in the 2020 PennDOT Innovations Challenge. Read more here.


Students in PA Virtual's Rho Kappa National Social Studies Honor Society earned the Governor's Civic Engagement Silver Award in the 19-20 school year. PA Virtual is the first statewide virtual school to earn a Governor's Civic Engagement Award. Read more here.

Former student Sigrid Gulbis was the first PA Virtual graduate to be hired as a teacher in 2018. Read more here.


Holly Workman, Class of 2012 graduate, was awarded a violin position at the Internationale Ensemble Modern Akademie in Frankfurt, Germany in 2019. Read more here.

Former student Kyra Smith-Cullen was promoted to Deputy News Editor at the Daily Item in 2019. Read more here.

High school student Abigayle Regensburger contributed an article to a local newspaper about continuity of education during the COVID-19 pandemic. Read more here.

Four high school students won medals in the 2020 Scholastic Art and Writing Competition. PA Virtual has had regional and national winners for the past five years!


Class of 2020 graduate Abe Hatcher performed his first ever comedy show as part of his graduation project. Check out the full recording of the show here.


Former student Nicholas Griffith was recognized as an All-American Swimmer in 2019. Read more here.

Class of 2020 graduate Alyssa Kautzman helped to organize a service learning event for her graduation project. The event raised over $1,000 for the Mighty Penguins, a sled hockey team for physically disabled children and adults.

Former student Ivan Lodnia was drafted by the NHL right after graduating from PA Virtual in 2017. Read more here.

Science Class Success! Middle school student Noor Alsabbar created one of the strongest Electromagnets in her science class in the 19-20 school year. Check it out here.

Paper Airplane Fun! Middle school student Cole Deutsch created two awesome paper airplanes from the airplane investigation of "The Four Forces." Middle school student Aaron Briercheck created a paper airplane from the airplane investigation of "The Four Forces," and his paper airplane managed to travel 12.884 meters.

"In the beginning of the year I had a student that wouldn't read during reading class on the microphone. I would have to take her to a break out room to listen to her read. She had a poor self esteem in reading. She said that she can't read. Now, she has been reading and using her microphone and volunteers many times to read in front of the whole class!"
- Elementary School Teacher

"I am currently a long term substitute in first grade with PA Virtual and have been with the school for only about five months now, however I have witnessed several of my first grade students, who were non-readers become quite the little readers! I was able to accomplish this by utilizing a combination of reading interesting books during our whole group session, teaching skills found in the fabulous K12 curriculum, using leveled texts for guided reading during our skills sessions, along with assigning reading assignments in Kids A-Z. PA Virtual does an excellent job of providing teachers and students the materials and resources they need to succeed!"
- Elementary School Teacher

"My students who have overcome adversity from physical illness have easily been my greatest successes. I think about how difficult learning would have been for them had this model of teaching not existed. They are truly the best moments when a student has a breakthrough in something that they've struggled with. I have a student with a rare disease who has struggled with attending school for years and it has made fundamentals like reading and math extremely difficult for her. This year, in the past few months, we have seen such huge strides in both areas that I am thrilled with her progress."
- Elementary School Teacher

"I have a first grade student that I see for Academic Support Reading. He started the school year knowing very few letter sounds or sight words. By mid-year he knew all of his letter sounds, is able to blend words together, and read sentences with sight words. He has made excellent growth and I could not be more proud!"
- Elementary School Teacher

"I can remember a student that came in struggling to respond to other adults except his Learning Coach. By working 1-on-1 with him every week, he began to respond in class and during his DIBELS. This was 2018-2019 school year. In 2019-2020, I have student that did not have the "want" to be in school. She was one of my lower tiered students receiving support from many individuals. By March, she was reading and sounding confident in class."
- Elementary School Teacher

"I had a student who started at the beginning of the year in kindergarten who struggled to identify letters and sounds who is now reading in April! She has come so far and her hard work has paid off!"
- Elementary School Teacher

"I had a student who started with PA Virtual in the middle of the year. She had difficulty with reading and was shy. She ended up bringing herself up to almost grade level reading, when she was a year and a half behind, within the rest of the year! I was so proud of her to practice her reading and have determination to be a better reader."
- Elementary School Teacher


We are so proud of all of our students for their daily successes and achievements and we love sharing their stories with our community. If you have a success story about a current or former PA Virtual student you'd like to share, feel free to let us know in the comments below!
Interested in learning more about PA Virtual? You can request more information here.