Fall is in the air, and the seasons are changing! PA Virtual celebrated going back to school this September by bringing together hundreds of students over the past few weeks at almost 20 locations statewide.
Celebrating its 15th anniversary this year, PA Virtual Family Support Coordinators are excited for the new school year. While September's events were all about fun and casual picnics, PA Virtual FSC's organize monthly events for local students, parents, teachers and staff to get together and socialize. Interactive games and other arts & crafts gave students in attendance the opportunity to get credit for 75 minutes of Language Arts and 75 minutes of PE for the day.
Many times the events are focused around a community service project, such as making Ugly Quilts, or have an educational component such as college tours or trips to local museums and historical sites. PA Virtual FSC's help students of all ages in their area come together in a positive, safe, and fun learning environment!
At the Montgomery County outing, FSC Heather Schaffer introduced an idea she hopes will spread to other areas of the state - #PAVCSRocks!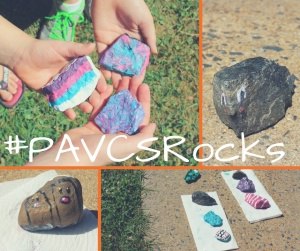 Ms. Schaffer and the students ventured into the park grounds at the Manderach Memorial Playground in Limerick to collect rocks. After clearing and painting the rocks, students wrote out the designated hashtag for sharing #PAVCSRocks. Students also completed this fun rock painting activity at Everyone's Playground in Horsham. Students are encouraged to send in pictures to their Family Support Coordinator of their rocks and give details of where they hid them so that we can create a school wide "scavenger hunt".
What do you do if you find #PAVCSRocks in your neighborhood? Share its location; then move it somewhere new! Share a clue with your classmates to see if they can find it and let it travel the state!
PA Virtual outings aren't just for students – parents were invited to an information Q&A session to answer any questions they may have about the coming year. The outings also serve as a way for new families to connect with Parent Ambassadors and other families in their area.
More Back-to-School picnics will be held on Friday, September 30th. Check out the locations and all of the great events we have scheduled for October on our Outings page.