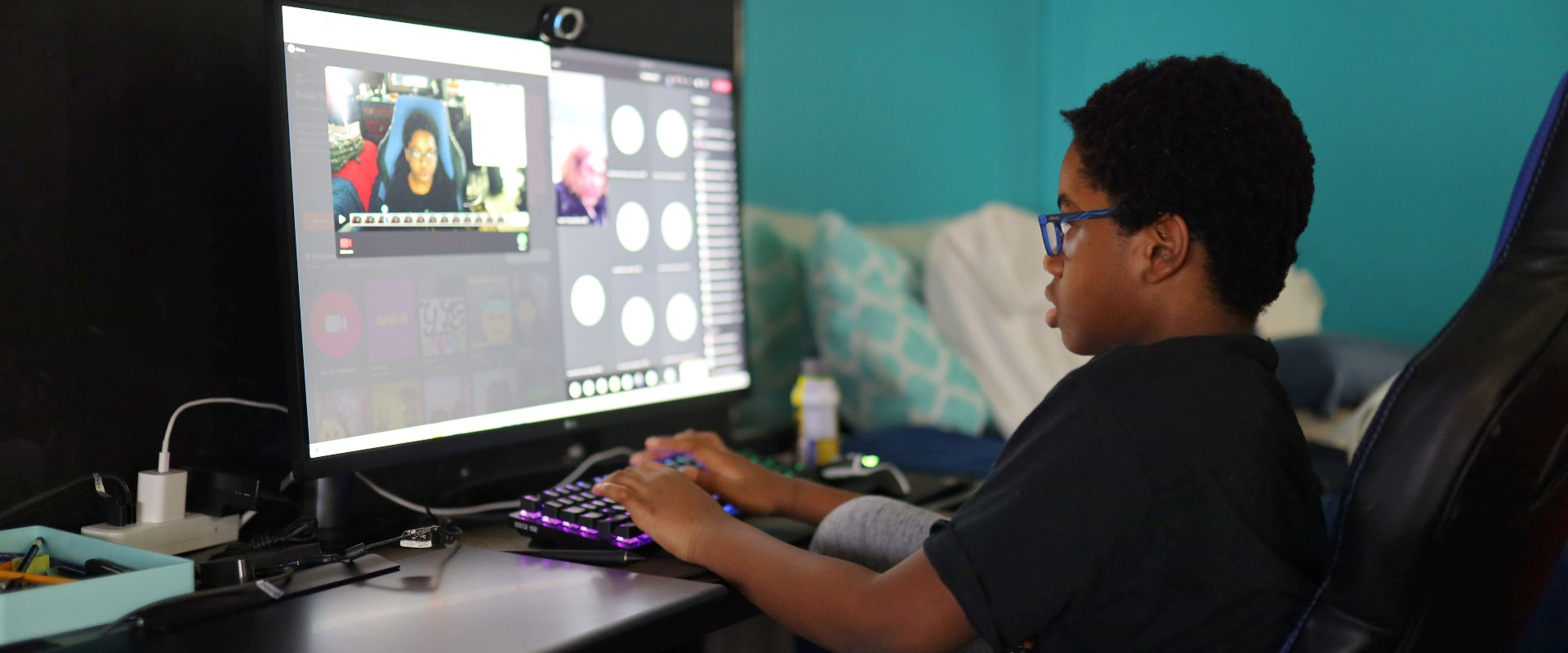 Subscribe
A Look Inside a Virtual School Classroom
About Cyber Education | Insider Perspectives
What's it like inside one of the cyber school classrooms in Pennsylvania? Heather Alcott, an Academic Support Teacher, gives us a snapshot of teaching in a virtual classroom — and shares her thoughts on the cyber charter school class experience!


---
When many parents think of a classroom, their vision is of four brightly adorned walls, child-sized desks and chairs, and cubbies for student belongings.
In a cyber charter school setting, however, it looks a bit different! For children who gather in a synchronous, or live classroom, model, they do so virtually from their own homes. At some cyber schools, the classroom extends into a network of students and their families. This approach offers flexibility and encourages creativity for teachers, students and families.
Today I'm going to give you a sneak peek into an elementary cyber classroom, and what you might see from some cyber schools!


Getting Started
First, let's start with the classroom setup. At the elementary level, students begin their day by logging into their main schooling platform. This is the brick-and-mortar school equivalent of entering the school building.

Once students are in the virtual building, they proceed to their classroom. How do students enter, you wonder? They typically click a particular button, section, etc. For schools using Blackboard — a popular educational platform, and one embraced by PA Virtual — the students click on their teacher's name in the menu. It's that easy! No one gets lost in a crowded, noisy hallway!
As it happens, Blackboard also serves as a central hub for parent resources. On the menu side, parents can find announcements, assignments, class information, course requirements, and teacher contact information. Furthermore, there are menu buttons with links to programs.
Where the Magic Happens
But where are the actual classes held? Some schools use Blackboard Collaborate Live (such as PA Virtual's high school), and others use different programs. Another popular option is Jigsaw, where students meet with their teachers for live, synchronous classes. At some schools, this is where the elementary school action happens!
Once a lesson is in full swing, there are useful tools for both the teacher and the students to engage with, interacting with each other and the content being learned. Some of the most frequently used tools are webcams, document cameras, screen share capabilities, chat boxes, emoticons, and whiteboards.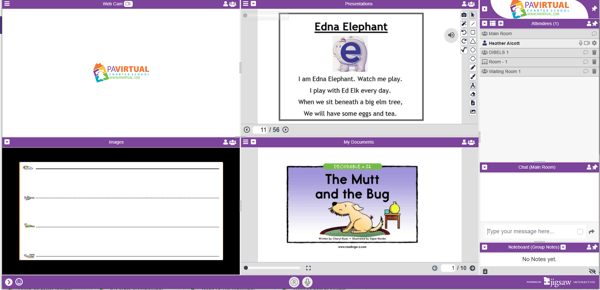 With younger learners, the document camera is a tool that offers an abundance of help for the teacher. Instructional opportunities abound, from modeling proper letter and number formation, to simple science demonstrations.
For example, a kindergarten teacher gives a science lesson on the layers of the Earth. As an engaging visual, she brings a hard boiled egg, with the shell on, to class. The teacher shows the students how the shell is like one layer of the Earth, the egg white another layer, and the egg yolk the final layer. Students are then able to click on a link to complete an independent assignment about the layers of the Earth — all armed with the knowledge from this creative virtual experience!
Younger learners also benefit from the screen share function in the Jigsaw classroom. Teachers can share the content of their screen, so the students can see what is on their very own screen, in real time. This helps students who might have some initial challenges with navigating inside the virtual classroom.
Students of all ages can navigate provide answers via the chat box and emoticons. There is even a private chat where students or parents can directly message the teacher without having to verbalize their concerns in front of the entire class.

Virtual Classroom Experience
Class disruptions are at a minimum, because at the beginning of the year, teachers set clear and high expectations for the proper use for each of the tools. In turn, the students use the classroom tools respectfully. Admittedly, on occasion, some students forget to respect the learning tools. However, there is little instructional time lost in redirecting students, because the teacher has ultimate control over the tools by simply clicking on a tool to remove student access to the said misused tool. Once a student remembers the expectations for working with the classroom tools, privileges are seamlessly restored.
Learning in a virtual classroom has a myriad of advantages. Consider the following table comparing a virtual classroom to a traditional, brick-and-mortar classroom:
| | |
| --- | --- |
| Virtual Classroom | Brick and Mortar |
| Student's home is their learning environment | Neighborhood school by default boundary lines |
| Security of student's own home | Potential school violence from internal and external sources |
| Parental supervision to avoid accidental allergen exposure and other health concerns | Potential accidental exposure to an allergen or other health concern |
| Medication/medical treatments during the school day have reduced impact on instruction | Medication/medical treatments during the school day, which can interfere with instructional time due to required trips to the nurse's suite |
| Elimination of hallway travel time and exposure to potential bullying | Hallway travel time, thus the potential for increased instances of hallway bullies |
| Backpacks and other belongings are secure in the student's home | Potential for theft, damage, or loss of personal property brought to school |
| Tolerant and inclusive dress code with encouragement for the student to dress appropriately, yet comfortably to learn | Dress codes that may be difficult to enforce, are unfair to gender, show indifference to culture, or have nothing to do with the quality of a student's education |
Teaching, Learning, and Interacting
Just like in a brick-and-mortar classroom, interaction between the teacher and students is important to the learning process! Cyber charter educators find new and creative ways to do just that.
Teachers foster social interaction amongst the students by allowing them to have time during the school day to greet each other, and share about their hobbies, interests, or activities outside of school, such as gymnastics or scouting. At the elementary level, some schools (including PA Virtual) hold meetings to develop language and communication skills. On Fridays, teachers hold a flexible hour to encourage students to share a story, eat lunch together, do a craft, or even have a tea party!
Social interaction isn't limited to Morning Meetings or tea parties. In fact, teachers encourage collaboration amongst students from the earliest grades. In the Jigsaw classroom, students can draw or type directly on a document or presentation. This ability allows the teacher to have the students take turns solving a problem, share the pen with writing, and allow for multiple ideas to be shared at a single time without a struggle. The chat box is another mode of collaboration. Students can type in and share their ideas — an ideal way for shy students to participate.
Since students have age-appropriate access to microphones and webcams, teachers facilitate academic discourse among students from the youngest of ages. Discussion is not one-sided. Teachers expect to hear from and interact with their students!
Moreover, students are expected to interact with each other. Teachers can allow for small group or partner work via breakout rooms. Links to platforms — some popular ones being Kids A-Z, iXL, Reading Eggs, Study Island, or Nearpod — can be provided in the breakout rooms, linking to assignments for students to complete either with a group, partner, or individually. Furthermore, students also receive links to assignment documents in Google. Teachers model and communicate clear and high expectations for student behavior. Students are held accountable for their actions and for the completion of their assignments.
With all the discussion about online learning, returning to in-person instruction, and more, sometimes people wonder just how engaged students are in a virtual environment. Let me tell you, they are! On my typical day, I interact with 25 students. I engage with each and every one of them. Through real-time technology, I am able to employ the "I-Do, We-Do, You-Do" methodology, and can conduct informal assessments and use the real-time data to make instructional decisions on a dime. Yes, you have to be overprepared. But what teacher isn't?


View sample classes on our Video Library page!
A Day in the Life of an Elementary Academic Support Teacher
My day runs parallel to the regular education teachers' days. I start by "pushing in" to a classroom. Often I arrive in time for the Morning Meeting, and I enjoy hearing my students and observing how their oral language skills are growing.
Once the Morning Meeting and break are finished, I move my students into a breakout room within the Jigsaw classroom. Here I have access to all of my teaching materials, and I can keep in contact with the teacher in the main room. Once my session in the breakout room is complete, I return the students directly to their main classroom, where they await direction from their teacher.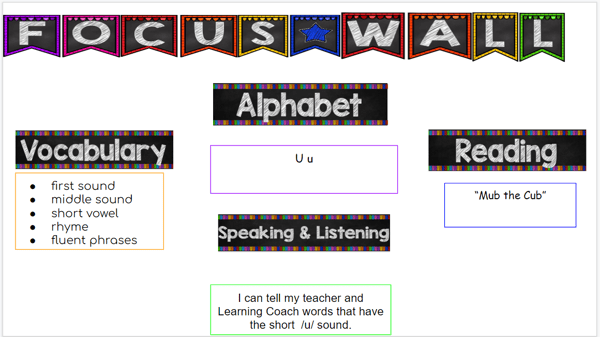 The remainder of my sessions are held in my own Jigsaw classroom. For security purposes, only parties with the link to my classroom are allowed to access my sessions. An additional layer of safety is added, as I digitally record all of my lessons. As the students enter the room, they are greeted by name. They are coming from several different classrooms, and are always excited to see each other. After a short time of greeting and getting set as a group, the students are shown the Focus Wall, which displays their expectations of learning for that session. From there, we work together to accomplish learning goals. The conclusion of each session is filled with waves of good-bye and a congratulations for a job well done.
Throughout the day, I get to see my students smile. I see their families. We laugh and make connections with one another. They tell me about their life outside of school, and I tell them about a book I'm reading or what my children are doing in school. I have a relationship with my students — just as I would in a brick-and-mortar school!


Reflections for Prospective Parents and Teachers
Many parents have concerns about school requirements for attendance, the COVID-19 pandemic, and other issues that were not as prevalent with previous generations. While all types of schools have benefits and challenges, more parents than ever are seeing the positives of a cyber school environment.
Here in Pennsylvania, cyber charter schools offer a public, tuition-free education, but from the comfort, safety, and security of home. This model is an excellent choice for families needing flexibility, or who have an advanced learner, a student who needs some extra help, or health and safety concerns. For example, students at cyber school classrooms avoid commutes, enjoy the comfort of their home, and have ready access for any medical needs they may have. Similarly, some cyber school educators are immunocompromised, and the flexibility of a cyber model allows them to develop their practice as teachers without the risk of contracting a communicable disease.

As educators, we are given the gift of creativity, and it's our job to use those skills to enhance learning for every student. I have been stretched to think about how I can support a student virtually. We make possible what seems impossible. For example, I have a student who frequently needs hand-over-hand support for letter formation. I developed a way for him to virtually grasp my hand and marker via the document camera so he can benefit from the kinesthetic sensory input to help him achieve his printing goals.
However, none of us operate in a vacuum. The grade level, department, and building communities among cyber charters make collaboration a priority, and provide support for families and teachers alike. Everyone is here to help each other succeed. Because when the teachers and staff are successful, the families and students thrive. At the end of the day, you can close up your classroom knowing that in some way, someone has built you up and you have built someone up. It is a beautiful thing.


Some Final Thoughts
The term "classroom" has shifted to include not only brick-and-mortar spaces, but also the dynamic, technology-driven environment found in cyber charter schools! Gathering in the virtual space, albeit from home, does not diminish the educational experience — in fact, it often enhances it! Students and teachers find new, creative ways to collaborate, learn, and interact.
If you're looking for a flexible online education, then give cyber charters a try! You'll be glad you did.

About the Author: Heather Alcott is an Academic Support Teacher in the elementary school at PA Virtual.
---
Want to see more classroom happenings? Check out our sample classes!
Photo credits to Ralston Smith on Unsplash; others from Heather Alcott.