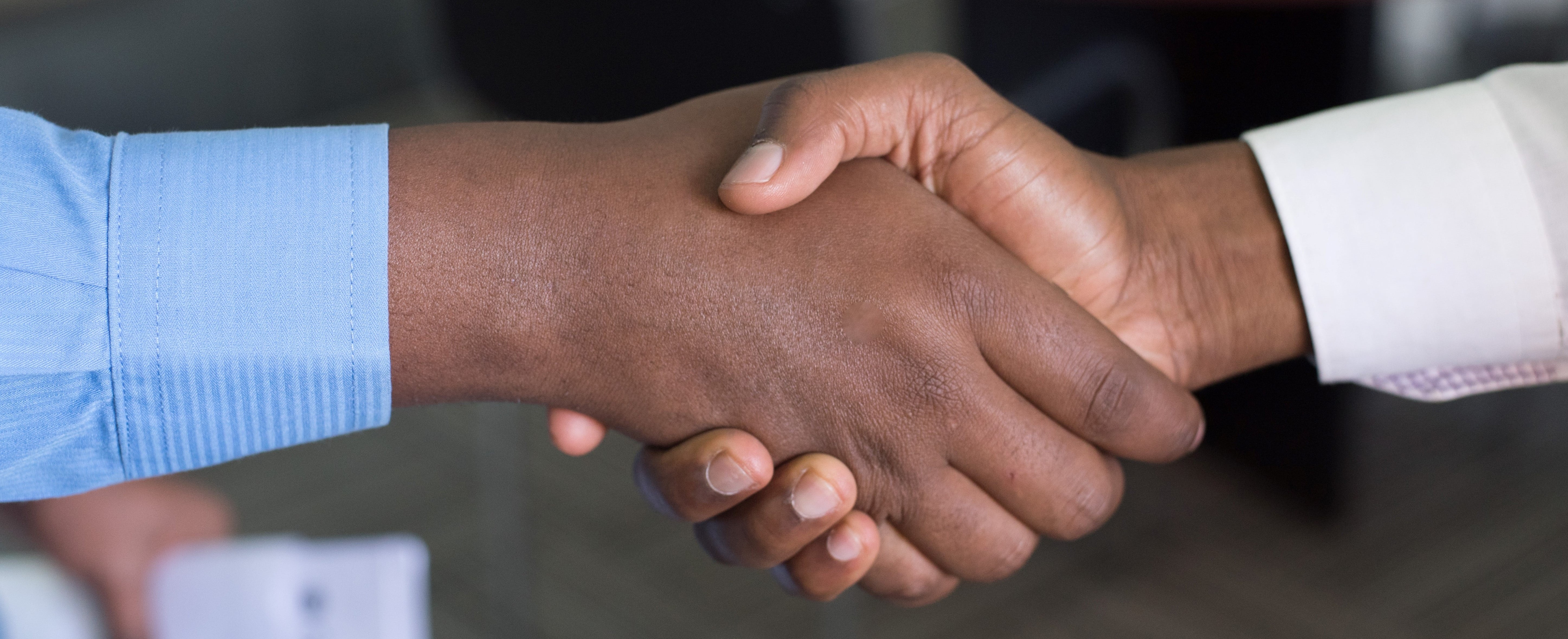 Subscribe
Finding Cyber Charter Success with the Diamond Model of Partnership
Ensuring that our students achieve their full potential means addressing multiple facets of education, such as parent involvement, engaging curriculum and technology, high-quality academics, and supporting students and families. PA Virtual 's Diamond Model of Partnership draws on this multi-pronged approach to prepare students for college, career, and beyond!

---

Collaboration is at the heart of successful education.
When parents and schools work in tandem to support students, academic magic unfolds. Here at PA Virtual Charter School, learning through our cyber charter school is no different — and keeps students at the center of all we do.
For more than 20 years, we've met the needs of our students and helped them develop a pathway to success by focusing on fulfillment of our mission: To provide Pennsylvania public K-12 students with a superior cyber charter option, and continuously improve the experience through innovative technologies, well-rounded curricula, and individualized delivery in safe learning environments.
How do we achieve this? We developed the Diamond Model of Partnership, a key vehicle that encompasses the heart of our mission through engaging curricula and state-of-the-art technology; high quality academics; extensive family and student support; and a deep level of parent involvement.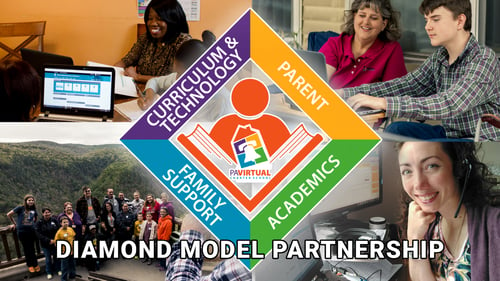 Curriculum and Technology
Creating an optimal virtual learning environment requires curricula designed specifically for learners in a cyber environment. PA Virtual uses the highly recognized K12, Inc. (grades K-8) and Edgenuity (grades 9-12) curricula. Each student is provided with a laptop, printer, and headset, as they engage in learning through cutting-edge technologies and platforms such as Blackboard Academic Suite, Blackboard Collaborate, K12 Online School, Jigsaw, and other tools. These platforms provide opportunities for innovative teaching and a high level of student engagement in our classrooms. When needed, our talented Technology department stands ready to assist with any tech challenges that arise.
Academics
Teachers at PA Virtual are highly qualified and certified by the Commonwealth of Pennsylvania in the subject areas they teach.They are well trained in the platforms they utilize in the classroom, including K12 and Edgenuity. All of the tools and resources needed to be successful are available to our students through the platforms used, and are specifically selected for their ability to boost academic achievement.

One such tool, Blackboard, serves as a resource and announcement hub. Students are enrolled in their courses in Blackboard, and have access to their teachers' course expectations, syllabi, and lesson plans. Having these resources available — and holding students accountable for knowing the content — encourages personal responsibility and ownership of academic success. In this centralized location, teachers also post any additional information and links relevant to class — and thus minimize, or eliminate altogether, any miscommunication about expectations.
Teachers and administrators also use Blackboard to post divisional and schoolwide bulletins and announcements, and send class emails through the platform as well. By containing all pertinent information in one location, PA Virtual makes it easy for students to access class correspondence and supports regarding departments, clubs, and social opportunities.

The K12 platform, which is specifically designed for virtual learning, also comes with hard copies of materials that are delivered directly to students — an important component that recognizes how young learners sometimes need tactile resources. Hands-on learning happens through materials provided for art class and STEM labs. The use of K12 as a tool varies, depending upon the grade-level or the course. It may be used as the primary platform for some grade levels or courses, while in others, it is one of several resources for sharing content.

PA Virtual utilizes the Edgenuity platform for middle and high school students, with all course content and materials accessible online — as well as an understanding of the needs of older students and their aptitude for readily adopting new virtual tools.


Varied Instruction
A distinct benefit of a PA Virtual education is access to varied instructional models, rather than a single type applied to all students. Teachers understand that each student learns differently, and provide additional assistance and enrichment through differentiation in the classroom and during office hours on Fridays.
Our approach provides students with an individualized educational experience through two main models: synchronous (a "live' classroom style, Monday through Thursday), and asynchronous (independent). In some cases, depending on grade level, a blended model is also available. ALL students work mostly asynchronously, or independently, on Fridays.
Synchronous students learn "live" in a digital classroom of students and the teacher. In this model, all four core classes — mathematics, English and language arts, science, and history — are in the virtual room with a teacher and classmates. Depending on grade level, additional learning opportunities are available during other times of the day. For all synchronous learners, art, music, and physical education/health classes are completed independently on Fridays.

This model is particularly beneficial for students who thrive in a structured environment, surrounded by peers.


The asynchronous model offers flexibility to families that need it, as students do not attend live classroom sessions. They complete each core course independently, following an instructional plan set by the teacher. With the asynchronous model, students can complete their daily work according to their own schedule, or that of their household, each day. Advanced learners, students who struggle in a classroom-style setting, those with busy outside schedules, and self-motivated individuals may benefit from the asynchronous approach.
The blended model is a combination of both synchronous and asynchronous elements, with some core courses in the "live" classroom and others completed independently. This approach provides the opportunity for both flexibility and structured aid, where appropriate and/or necessary.
Family and Student Support
Partnership is all about preparing and encouraging our families! For those in the PA Virtual community, New Student Orientation is designed to prepare both students and Learning Coaches for the online learning experience, and is facilitated by teachers. A smooth transition into a digital classroom is particularly important for students making the leap from a traditional brick-and-mortar setting, and New Student Orientation provides them with all the information and tools they need to jump right in.
PA Virtual's Family and Student Services Support Department succeeds at providing top-notch student and family assistance. The department has received the Robert B. Cormany Award of Excellence in Student Services from the Pennsylvania Association of Pupil Services Administrators and the PA Department of Education. This award is presented to a school to recognize their high quality student/pupil services program. This department has also earned the Nicholas Cericola Memorial Award, presented by the Pennsylvania Coalition for Parent Involvement, which is given to a school that demonstrates a strong commitment and success in engaging parents in their child's learning through programs and partnerships.


Family Support Coordinators
Our Family and Student Support Services Department offers many opportunities for building relationships with various members of the school community, including field trips and service learning events across the Commonwealth. They also provide assistance and solutions to problems families may be experiencing as they attend PA Virtual. Our Family Support Coordinators (FSC), who have an average of 10 years of experience here, are integral to the support process. They each provide individual help to families in their region of the Commonwealth, and are on the front lines in assisting them as they navigate online education in a home learning environment.
FSCs help guide families through all types of non-academic concerns. They monitor all aspects of daily attendance, assist parents and students when they have questions about educational platforms and access to them, and work as a team with other school staff to address all school-related needs. Since they are assigned by region, each family stays with their FSC for their duration at PA Virtual. This structure provides students and Learning Coaches assistance from someone who knows and understands the school structure and environment as they move through the grade levels.


Pupil Health and Student Assistance
Family support doesn't end with our FSCs, though! Our Pupil Health Department — upholding the belief that "children must be healthy to be educated, and educated to be healthy" — works to ensure students meet requirements for health mandates set forth by the PA Department of Education. Pupil Health consists of nurses and administrative staff, along with a coordinator and project manager.
PA Virtual also has a team of staff members trained to identify students in need of guidance in the areas of mental health and alcohol use. The Student Assistance Program (SAP) is available to all students. The goal of the program is to link students with the help they need to overcome the obstacles they are experiencing so they can succeed academically and progress in their education. In addition, PA Virtual has seven school counselors who assist students with concerns related to mental and emotional health, academics, and career and college planning.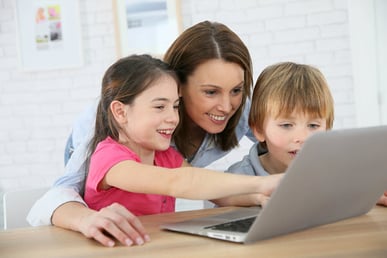 Parent Involvement
Parent involvement is a cornerstone of both the Diamond Model of Partnership and PA Virtual's approach to online education. Adult interaction and supervision within the home learning environment is critical to student success. This trusted adult, known in the PA Virtual community as the Learning Coach (LC), facilitates the student's learning process in the home environment and manages the home learning setting. The LC also aids students with immediate tech issues, helps oversee homework and classwork completion, and serves as an on-site liaison, so that students receive well-rounded support.
Make no mistake — being a Learning Coach is a vital role at PA Virtual! To that end, our LCs have extensive opportunities for education and engagement, including weekly online Lunch and Learn sessions and certificate programs that help sharpen LC skills. For newer community members, we offer New Family Fifteen, which provides a brief, 15-minute overview of topics such as creating an optimal learning environment, tips for managing the LC role, and more.


Parent Ambassadors
One of the most valuable assets for LCs is our Parent Ambassador Program, which links veteran PA Virtual learning coaches with new LCs. The support provided by our parent ambassadors is immeasurable, as they are in tune to the ins and outs of the daily work involved in being an LC, and have particular insight into ways to make the process smooth for each family.
PA Virtual also offers opportunities for parents to become involved through volunteering, committee participation, and connections with other parents and their community. We want our parents to share their talents and perspectives, as that input enhances our ability to create the best learning environment and community for our students!
Final Thoughts
PA Virtual as an organization firmly believes and runs on the premise that students are best served by a multi-pronged system of supports. Fulfilling our mission as a school means keeping the student at the center of our curriculum and technology options, family support, academic, and parent involvement — all working in tandem as the Diamond Model of Partnership. By cultivating these areas and drawing on their collective strength, we foster an environment where students can work to the best of their ability, thrive on collaboration, have the opportunity to enjoy and grow through the learning process, and learn in-demand, 21st-century skills.
About the Author: Bernadette Mathis is a Middle School counselor at PA Virtual.
---
Want to learn more about how our Diamond Model of Partnership helps your student? Check out our Diamond Model page!
Photo credits to Cytonn Photography on Unsplash; K12, Inc; Edgenuity; and Blackboard.