Subscribe
7 Cyber School Tips for Life After Graduation
Graduation season is upon us! As seniors prepare to step out into the wider world, they are full of questions related to the job market, their social circle, family, and more. In this blog post, cyber charter school veteran Lexi '17 shares some tips on preparing for post-graduation life.
It's graduation time, and that means looking ahead to the future.
This is a season full of both excitement and uncertainty of the road ahead, as graduates celebrate their accomplishments, bask in the knowledge of a job well done, and spend the summer with friends and family. Today, I'll be sharing some tips to help prepare seniors for life after high school.
Tip #1: Explore Your Passions, While Finding Interesting Things in the Everyday
We all want to have a career doing something we love! However, we are unlikely to stumble upon the things we are passionate about. You may have spent time before graduation discovering the things that bring you joy. If you have not started that process yet, it isn't too late.
Both jobs and volunteer opportunities offer experiences and skills that will benefit you in the course of your life. This applies to those jobs that aren't directly related to your goals and to situations that are particularly challenging! Whether you have discovered your passions or not, you will likely find yourself in these employment situations.
Remember to keep a positive attitude at the jobs and to work just as hard as you would in your ideal career. You are building life skills and forming your character as a dedicated worker and reliable person. In almost all cases, the skills you learn in that employment will aid you wherever life takes you next.
If you find yourself in a job that is a stepping stone, embrace it! Find the interesting aspects of your work and explore them as you go. Every job has elements that may not fit your personality well, but how you choose to approach those more difficult tasks will determine your success.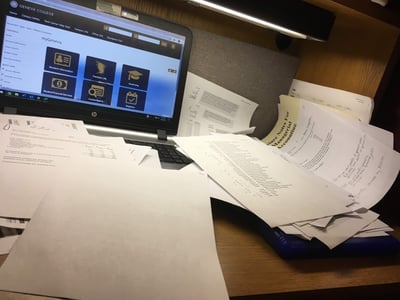 Papers, paper, papers! Grading as a college TA helped sharpen my skills.


When I was at PA Virtual, I spent a lot of time discovering my hobbies and passions. I knew I loved to write, and that I was interested in business concepts like management and marketing. That helped to guide what I studied in college, but not every job I held in those four years was related to my degree.
Actually, I spent a lot of time learning new skills that have been applicable at my current job with PA Virtual. I practiced my phone skills in the Admissions Department. I graded papers and assignments as a teaching assistant, which strengthened my language and writing abilities. Other more general skills included time management and meeting deadlines.
Tip #2: Set Some Goals — and Strategies to Meet Them
Whether you're bound for college, the workforce, or the military, you'll want to set some goals. Goals define your direction and can help to motivate you. A popular way of setting goals in educational and vocational settings is the SMART goal.
S:

Specific

M

:

Measurable

A:

Attainable

R:

Relevant

T:

Timely
You want goals to be specific so you actually have something to work towards. "I want to read more" is not as specific as "I want to read one book every month this year."
Goals to be measurable. With the previous example, "more" is not really a measurement, while "one book per month" is something that can be verified.
You want goals to be attainable. If you are working or going to school full-time, a goal of "I want to read 20 new books on quantum physics every month" is really not attainable. A goal should be something that can be achieved, so you feel motivated to aim for it.
Make sure your goals are relevant. If you aren't planning on studying physics, you probably don't need to read any books on quantum physics, let alone 20 every month.
You also want goals to be timely. If there is no time pressure to achieve your goals, you will never feel motivated to make any progress.
While most of those examples were monthly goals, it is important to consider your long-term (big) aspirations, as well as the smaller monthly, weekly, or even daily benchmarks that can help you live a full life. All of these goals are important, and they build on each other!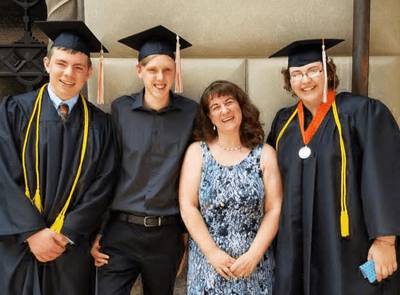 Thanks to goal setting (and amazing teachers like Mrs. Tammy Bacon), I excelled in school — and even earned an English honors medal!



Cyber Schools Help Start the Process
Some cyber schools provide students with guidance on how to achieve this. For example, the guidance counselors at PA Virtual do presentations on a variety of life skills such as goal setting that can prepare you for life after graduation. Career Services also provides classes that build those sorts of skills. Here are a few examples of what high schoolers are prepared with.
In the Reaching Your Academic Potential course, students learn essential academic skills within the context of their learning style, individual learning environment, and long-term goals. This course helps students develop habits for more successful reading, writing, studying, communication, collaboration, time management, and concentration. It also provides insights into how the brain works when it is learning, and ways to maximize its potential.

Students in the College and Career Goals course explore their options for life after high school and implement plans to achieve their goals. They identify their aptitudes, skills, and preferences, and explore a wide range of potential careers. They investigate the training and education required for the career of their choice, and create a plan to be sure that their work in high school is preparing them for the next step. They also receive practical experience in essential skills such as searching and applying for college, securing financial aid, writing a resume and cover letter, and interviewing for a job.
Tip #3: Organize, Organize, Organize!
Just like being organized in high school was important, so it is with life afterwards! It doesn't matter what your post-graduation plans are — organization will play an important role in adulthood.
There are a variety of methods to stay organized. You may already know the method that works best for you. If you have not discovered that yet, explore different options for keeping on task! You could try an organization app or calendar, or write your to-do lists on physical paper.
College students need to stay organized to manage their schedules and assignments. Adults sometimes say that college isn't the "real world" — in a way, they're right. Schedules, finances, and daily activities differ in a workplace setting. But college students still have a schedule to manage, along with their finances and daily activities.
If you plan to attend college, take steps in your first year to find your best method of organization. You may invest in a planner, or write to-do lists on sticky notes, or buy a whiteboard. No matter your method, staying organized will help you manage stress from classes, assignments, papers, exams, and social commitments.
For students moving to the workforce, organization will help you to separate your work and your personal life. This will allow you to develop a good work-life balance, and to minimize stress in both areas of your life.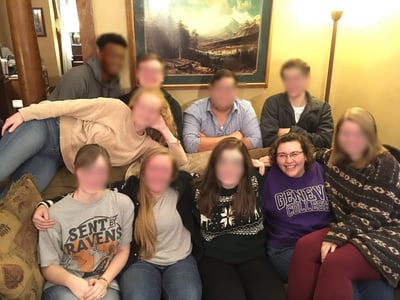 Being organized meant that I could also have time for the fun stuff, like friends.
Tip #4: Be Bold, and Put Yourself Out There with Confidence
There's an old adage that claims "Fortune favors the bold." And there's some truth to that! You may have also heard that confidence is attractive. In any context, people are often drawn to people who exude confidence—whether that would be in employment, teamwork, or relationally.
Job candidates, for example, who exude confidence and boldness are sometimes more memorable, and may be more likely to make it to the next round, or even land the position. This boldness can extend to your personal presentation, as well as demonstrating a knowledge about the company you are interviewing for. It is a good rule of thumb to be knowledgeable when going into an interview, but the confidence to share that information comfortably will make a difference.
Being confident or bold does not mean being arrogant. You do not need to be over the top. Rather, confidence is about knowing your strengths and being able to identify and communicate what you bring to your college classes, the interview table, or even to the military.
Another thing that confidence is not: blind impulsiveness. Being decisive can be an excellent bold skill, but when it comes to your career, weigh your pros and cons before making big decisions.
Being confident does not come easy to everyone. Spend time getting to know who you are and what you are passionate about. As you learn to love the person that you are, you will find more and more confidence in showing yourself to others.
Tip #5: Be Dedicated to Your Studies and Work — But Have Fun!
It's always important to work hard, so that you maximize your learning and potential. Being a hard worker is not only a character quality that employers are looking for: it is something that will serve you in every area of your life.
Procrastination can be tempting. For some personality types, it may come naturally or feel like the only way you can finish your work. However, taking the easy way out often ends up costing you in the end, so don't procrastinate. Find the best ways to motivate yourself and put forth your best effort.
At the same time, don't forget to have fun!
If you are headed to college, join clubs and activities that enhance and work around your school responsibilities. You could be a spectator at sporting events, host get-togethers, or support the arts and drama departments.
If you're in the workforce, then make sure you use free time for hobbies, cultivating relationships, and fun events that help you find balance.
In college, I struggled to balance my studies and my interpersonal relationships. If I could go back and change anything, I would work fewer jobs and prioritize my health. You can only do your best, but don't compromise other areas to achieve the best possible outcome in a single area.
As a working professional, I have learned to balance work and life. I fulfill my responsibilities at work, but outside of those hours is my time. I enjoy many hobbies, prioritize resting, and socialize with my peers regularly.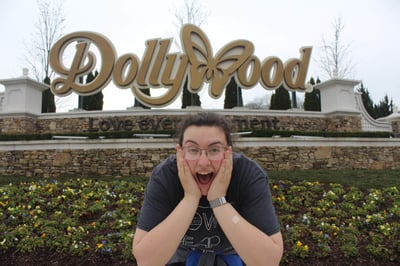 For me, fun also included a trip to Dollywood!
Tip #6: Brush Up On Your Practical Knowledge
Your post-graduation life isn't all about academics and work hours, though! (Which may be a relief to those of you who feel very done with studying!)
After graduating, there will be general life skills you will regularly practice. While you can learn as you go, it may benefit you to prepare for the future. At some cyber schools, students can take courses in personal finance, career preparation, and more.
These types of skills are crucial to your future, whether you're at a university or jumping into employment.
From budgeting and how retirement savings work, to learning how to create professional portfolios and interview for jobs, make sure you do your research. If you are a person who enjoys learning, you have a great opportunity to "become an expert"— at least to the degree of practical knowledge. If you are a person who prefers to learn from those experts, take advantage of the resources around you that will break down these skills and teach you. That may be a class, club, or presentation at your college, or something provided by your local library, place of worship, or community center.
Tip #7: Embrace Life's Curveballs — and Learn How to Thrive
It's always good to have a plan, but one certainty about life is that the unexpected will happen!
When you don't do as well on your final exam, or you don't get the promotion at work or in the armed forces, don't take it as a reflection of failure. Life will throw plenty of curveballs, but the secret to thriving is to take these in stride and emerge stronger, wiser, and ready to take on the next thing.
Failure is inevitable. While it may feel uncomfortable, failure is actually an opportunity to grow. It is natural for us to grow and evolve as people, and embracing those moments when the outcome is not what you hoped will strengthen your character.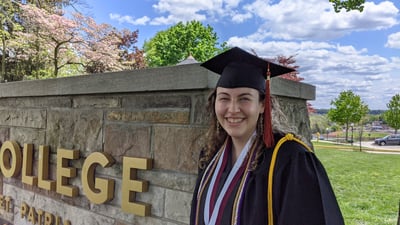 And then the day came: college graduation!

Some Final Thoughts
Life is what you make of it. High school may have been some of the most enjoyable years of your life. Or, for any number of reasons, you may have been counting down the days for it to be over.
While the future may seem daunting, here in the remaining days of graduation, remember that students will have countless opportunities over the course of their lives. Some may take paths that help them develop academically, emotionally, professionally, or socially. And they may not take others. No matter where they're are at, it's never too late to implement some of these life preparation tips — and finding work-life balance, new skills, and success for years to come!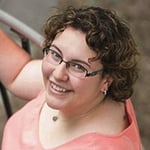 About the Author: Alexis Dingeldein attended PA Virtual for all of grade school and graduated in 2017. During her time here, she wrote and self-published six novels. She also serves as an Enrollment & Marketing Specialist at PA Virtual.
Images courtesy of Jen Theodore on Unsplash; and Lexi Dingeldein.