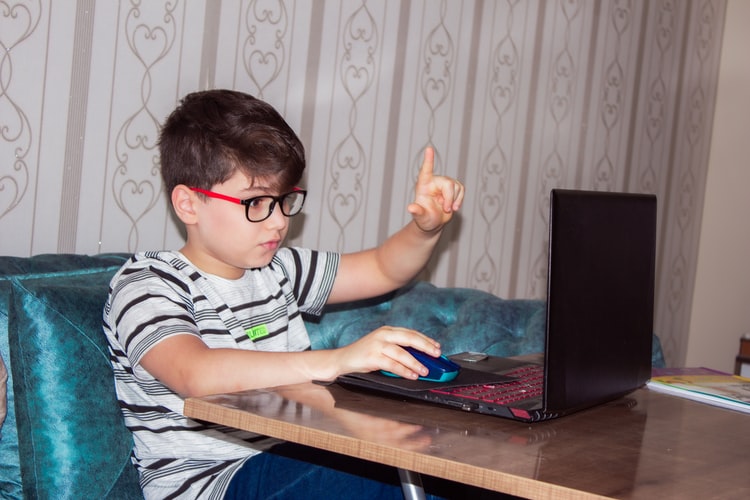 Subscribe
Will My Child Benefit From Cyber School?
Cyber School. It sounds so vague and different. Would your student benefit from this form of education? If you're considering it, there's a good chance that this may be the perfect model. Maybe it's time to learn more!
When considering an online education you must take into account your student's schedule, learning style, and needs. Throughout this post, we will review some of the components of virtual education that can impact this important decision. As you review the different points, I encourage you to think of them like checkboxes. Mentally check off the ones that would be important to your child's success.
Convenience & Safety
According to the CDC, approximately 4.4 million children between the ages of three and 17 have been diagnosed with anxiety. These feelings of worry and fear can be seen in several ways. Separation anxiety is evident when the student is upset parting from parents. This may stem from thoughts that bad things could happen to themselves or loved ones. Social anxiety is a general fear of being judged or humiliated in social situations. Lastly, there could be specific phobias of particular situations, such as getting sick in front of peers.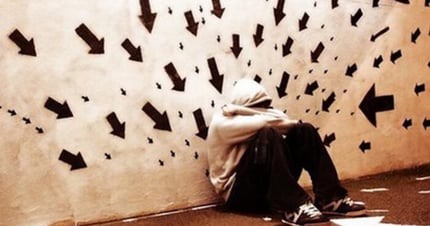 An online education could assist in your child's feelings of nervousness. You can create a predictable, organized learning space in their familiar environment. Some of the social anxiety can be avoided with strategic, content-focused activities on a virtual platform. Students can easily prepare for their interactions during the day using the teacher's weekly emails and content outlines. They can feel safe and secure in their home, with the ability to change their environment to a different room or space if needed.
Technology & Communication Skills
Think about your day. How many times did you need technology?
Technology is vital in today's world. It's quickly advancing and adapting to our ever-changing environment. Exposing students to technology at an earlier age allows them to become fluent in its various facets and terms. They can quickly adapt to the advances that will impact their future education and careers. Many of our PA Virtual alumni speak highly of the technology skills they acquired from attending a cyber school.
Are you a little nervous about coaching your student through both education and technology? Have no fear, support is here! Online schools offer a wealth of resources to assist you. Between technology support services and family support coordinators, you are bound to have your questions answered. Teachers are often ready and able to walk you through the websites, programs, and assignments. But, I encourage you to think about this natural nervousness that reflects the consistently changing world we live in. Think about how confident your student will be when it comes to supporting their own future children!
Curious about communication throughout the day? Various formats allow your student to feel secure and confident in their interactions while developing collaboration skills. Programs such as Blackboard allow students to engage in discussion forms with one another. Often teachers prompt students to respond to a given number of posts each day. Programs such as Google Docs permit students to work together on an assignment while making their own annotations and notes. The synchronous model permits students to engage in live discussions. Teachers may display a prompt or long-term assignment for groups of students who then move to their own monitored break-out room for discussions and work. Older students will advance in their ability to communicate through email while practicing their letter and sentence formation.
Structure & Flexibility
The flexibility in a cyber school is incomparable. At PA Virtual Charter School, students are offered two options. One is to participate in the curriculum through an asynchronous model, which does not involve face-to-face lessons with a live teacher. Students are self-paced through the content areas while being guided by an asynchronous teacher. Assignments and expectations align with the students' abilities, but they are paced to best suit the learner.
The synchronous model combines in-person interactions with the online curriculum. Students meet with their teacher face to face in a virtual classroom for core subjects. In between live class sessions, the students participate in their online curriculum and complete homework assignments from their live classes. This synchronous model allows teachers to become familiar with your student and his or her needs. Instruction can be tailored to specific goals for these students.
Check out a sample synchronous kindergarten schedule below:
| | |
| --- | --- |
| Time | Subjects |
| 8:10-8:40 | Synchronous Language Arts Class |
| 8:40-9:55 | Language Arts Homework, Online History and Art Lessons |
| 10:05-10:35 | Synchronous Math Class |
| 10:35-11:00 | Math Homework, Online Language Skills Lessons |
| 11:00-11:45 | Lunch/Recess |
| 11:50-12:45 | Online History Lessons |
| 12:55-1:25 | Synchronous Science Class |
| 1:30-2:25 | LAB Class - meet one-on-one with a teacher and/or practice skills with a particular online program |
You can also check out sample schedules for all grade levels here.
The structure in both of these models allows for predictable routines. Students can approach each day with the knowledge of what should be prepared and how instruction will be delivered. While this secure routine is established, there is also flexibility. They can budget their time on assignments and move along without the rush.
Materials & Support
You wouldn't believe the amount of materials provided for online education. Students are provided with a laptop, printer, and curriculum materials. Families even receive an internet stipend to offset the cost. The curriculum materials are not only focused on the grade level curriculum but they can also be adapted and modified for your unique student. Teachers will embed various skills and strategies with the supplies that can assist your instruction at home. The materials are shipped to you for free and traded in for additional resources as the student progresses. A sample of the K12 curriculum resources offered to families is pictured below.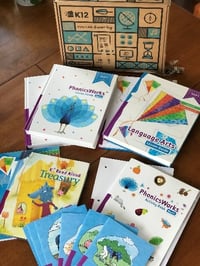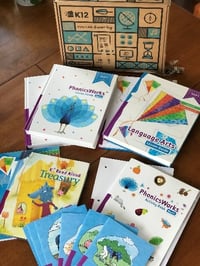 Every new endeavor entails an orientation! Once you receive the technology and supplies, you have two weeks of orientation to learn about the resources and programs with our New Family Orientation team. These fantastic sessions allow you and your student to become familiar with online learning and have a smooth transition to this model of education. Sessions are broken down nicely to include synchronous and asynchronous practice.
Naturally, the more you progress with online education, the more questions you may have. Each family is assigned a Family Support Coordinator to help you navigate through any challenges you come across. Virtual schools have a terrific support system for their families including contact points for special education, technology, and attendance. I encourage you to check out our full list of staff here.
Conclusion
In short, there are many factors to consider when learning about virtual education. It's important to think about the specific needs of your student. What works in their current schooling, and what doesn't work? Consider how this format can support your student's emotional and educational needs. As you explore this option further, know that there is a team of individuals to help you along the way.
If you'd like to learn more about how cyber charter schools work and how they can benefit your child, check out our Ultimate Guide to Attending a Cyber Charter School in PA. This comprehensive guide will help you weigh the pros and cons of cyber charter schools and help you decide whether the cyber model might be a good fit for you.
About the Author: Amy Dajczak is a kindergarten teacher at PA Virtual.