Subscribe
When Cyber School Teaching Inspires: An Alumna's Perspective
Attending a cyber school is an enlightening experience, and one that still allows for strong connections with fellow classmates as well as teachers! In this blog, cyber charter school alumna Lauren '14 shares her thoughts on cyber school, how it helped shape her desire to teach, and provides an insider's view into the experience!
---
Where you send your child to school matters.
For my family, that meant starting and finishing my education in a cyber charter model. Throughout that experience, I encountered staff members and teachers who played a pivotal role in my life — and who helped create an atmosphere of community, partnership, and, ultimately, contributed to my success. In this blog, I'm going to share about my time as a cyber charter student, some of the teachers who helped shape my education, and why the cyber community is unique.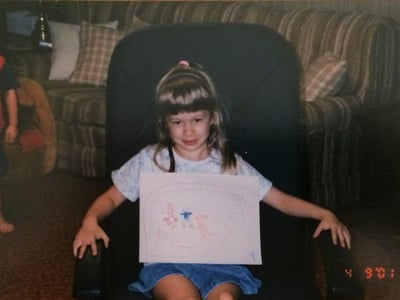 First Day of PA Virtual Kindergarten - September 2001
Starting Cyber School
When I was ready to start kindergarten, my family was interested in homeschooling, but was looking for an educational community with structure and support. PA Virtual provided us with the opportunity to play an important role in my education with the support of teachers and staff.
Like many five-year-olds, I was excited to start school — regardless of the setting! Getting a computer and materials in the mail made the cyber school adventure exciting. Because I started PA Virtual in kindergarten, cyber school was my normal. In fact, when people asked me if I liked being cyber schooled, I never really knew what to say because that was just what I thought of when I thought of school.
When I began this educational journey, live synchronous classes were not yet offered at the elementary school level. Even though I did not have initial jitters about meeting my teacher or classmates on the first day of school, the educators and staff did other things to help me feel comfortable and confident. At the end of each summer, I remember looking forward to getting a letter in the mail informing me of who my teacher would be that year. Often, the teachers shared a bit about themselves and included an "All About Me" paper for us students to complete and return. When I met them on the phone, computer, or at an in person outing, knowing they already knew a little bit about me helped me feel more comfortable.
My teachers always made me feel included and part of the class. These are just a few of the ways my teachers included all their students:
Took time to learn everyone's names
Engaged all students through the use of online tools
Provided a mixture of whole class instruction, group, and partner work.
Drawing Inspiration from Excellence
Most students, whether in a brick-and-mortar setting or in cyber education, can point to particular teachers who made a difference in their lives. For me, my high school geometry and creative writing teachers stood out to me as excellent teaching examples.
The first time I attended live, synchronous classes was in high school. I took geometry my freshman year and benefited from an excellent teacher: Mrs. Malena Howe. One of my favorite things about her was how she provided her students the opportunity to apply what they had learned in class to a project. The most memorable one I completed was the house project, in which I designed a floor plan for a house, calculated the cost of flooring, and then built a model to scale. The chance to apply what I had learned not only gave me a stronger understanding, but also helped me connect the concepts from class to real life.
I enjoyed being challenged to learn new things. In my junior year of high school, I had a creative writing teacher who stretched me to think about reading and writing in new ways. The assignments and projects were different from anything I had ever done. I found that reading with a different focus and writing in new genres helped me strengthen the skills I needed for other classes.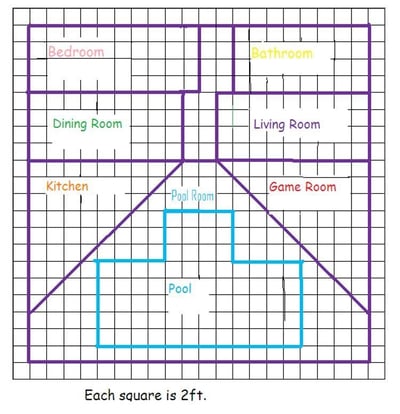 9th Grade Geometry Project
When it came time to pursue my own career path, I knew that teaching was the right move for me. Over the years in cyber school, I had learned key skills that would help me when I went to college.
Starting in elementary school, I learned how to work independently. Each morning, my Learning Coach would make me a list of lessons/activities that needed to be accomplished that day. As we finished each lesson, we crossed it off the list. As I got older, I gradually learned to check the list and complete some lessons on my own. By the time I was in high school, I was able to use the weekly plan provided by my teachers to guide my learning and keep track of assignments.
Another key skill I had learned was taking responsibility for my own work. Unlike many elementary school students' experiences in a brick-and-mortar school, my school day was finished when my lessons for the day were completed — not necessarily at a certain time. I learned how my efforts played a role in how smoothly my school day went and when it was finished. By the time I got to high school and college, it was natural to assume responsibility for completing assignments and studying for tests in order to be successful.
When I started college, some of my peers had never taken online classes before. They mentioned it was an adjustment for them to navigate the courses and keep track of deadlines. For me, however, the platforms were similar to what I had used in cyber school to locate information, take tests, and upload assignments. I had taken both synchronous and asynchronous high school courses at PA Virtual. Having experience with the two different models of instruction allowed me to navigate online classes with varying levels of instructor support.
While my decision to teach was not directly impacted by my teachers, looking back I wonder if I would have wanted to become a teacher if I had had a different experience. I can never remember not liking school during my 13 years as a cyber charter student. I was able to learn at a pace that suited my learning style and learned to love learning! Cyber school also allowed me the schedule I needed to participate in experiences outside of school that further sparked my passion for teaching.
PA Virtual: A New Generation
Now that I'm the one leading the class, I appreciate my teachers even more! I never expected to be teaching at my alma mater. In fact, I was actually hesitant to apply for the job. However, I quickly felt right at home! I remembered all the reasons I had loved PA Virtual as a student, and hope to provide my students and their families with a positive cyber education experience.
Two important principles I learned from my teachers that I apply as a teacher are forming positive relationships with students and communicating with families.
Positive relationships with students
The teachers that stood out to me showed they cared about their students and that they learned through their actions. They made connections with us but still held high standards. They structured class time efficiently and they were aware of our needs. As a teacher, I develop positive relationships with my students by greeting them each morning and allowing them to greet each other. Each week in our class, we have a "Star Student," someone who has been meeting our class expectations. Each week our star student gets to share about themselves and practice answering their classmates' questions.
Communicating with families
To be successful as a student, I needed the support of my cyber charter teachers. However, I also needed the support of my learning coach, as parental involvement is an important part of student success. My teachers helped make this partnership successful by providing my Learning Coach with clear and regular communication about class times, homework, assignments, and resources. As an elementary teacher, I communicate with families by providing them with information about each week and updates on their students' progress.
Although I don't work directly with any teachers I had as a student, the teachers that I work with are just as dedicated to their students' success as those from my years as a student. What I have discovered as a teacher is how supportive we educators are of each other. My colleagues made my transition to teaching in a cyber school environment smooth, and have encouraged me along the way. As I have realized unique challenges to teaching in a cyber setting, I have even more admiration for my teachers that navigated technology seamlessly, engaged all their students, and responded to communication promptly.
For anyone who is a teacher, or has one in their family, you know that it can be a challenging profession — but one that is so worth it! My cyber school teachers were knowledgeable, innovative, and dedicated to providing their students with the best education possible. While you also find committed instructors in a brick-and-mortar model, the cyber charter school community is like no other. Joining PA Virtual meant joining a body of supportive educators, staff, and administrators who partner with families, just like when I attended. And for me, I enjoy each and every minute of it!
Considering the switch to online learning? If a cyber charter school sounds like a good fit, then check out our Ultimate Guide to Attending a Cyber Charter School in PA!


---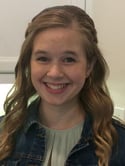 About the Author: Lauren Lusk is an elementary school teacher at PA Virtual.
Images courtesy of Kyle Gregory Devaras on Unsplash; and Lauren Lusk.