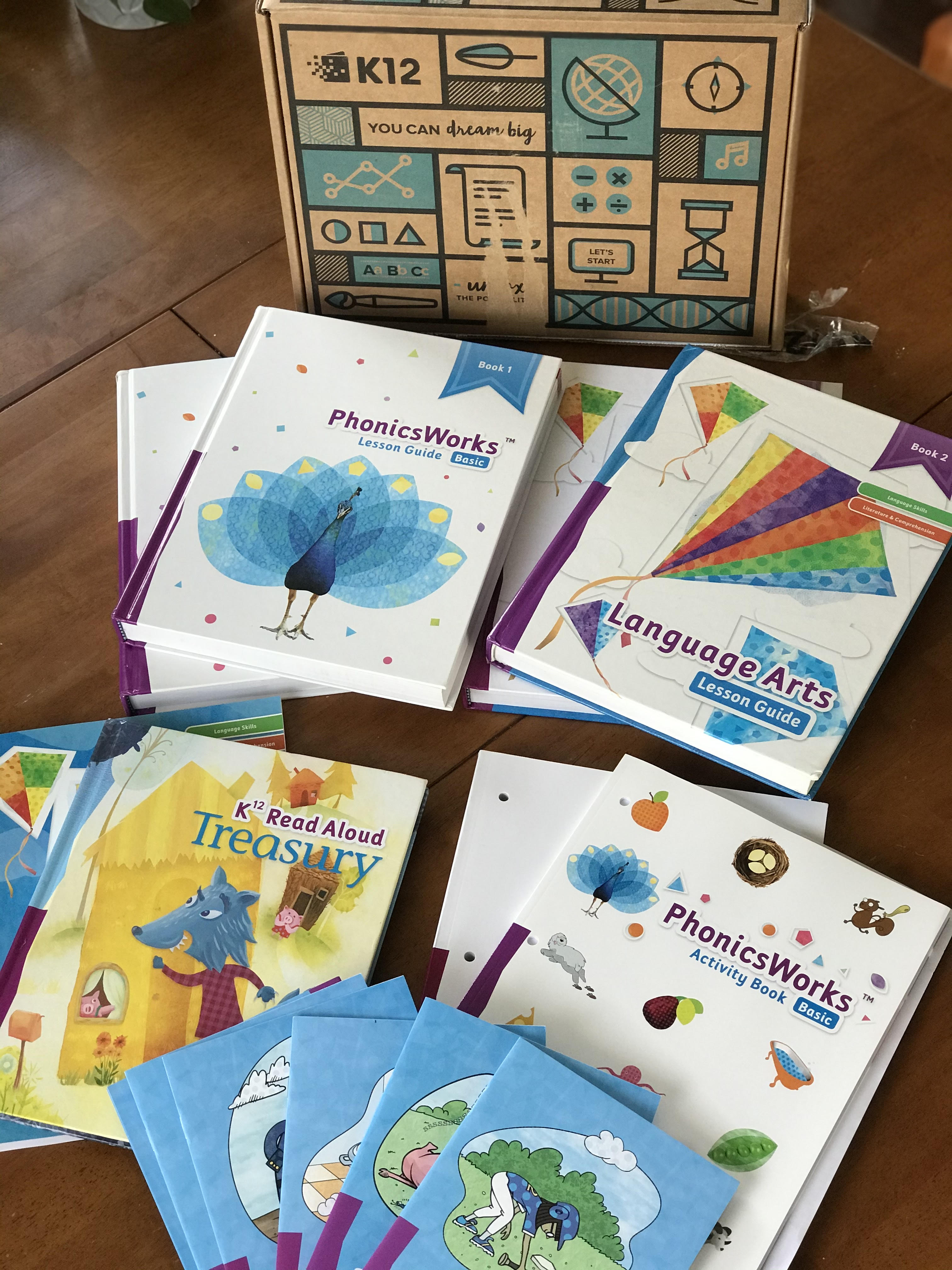 Subscribe
What Materials Will My Child Receive in a Cyber School?
During my first week of teaching at PA Virtual Charter School, a parent hopped on at the end of a lesson. As a newbie, I naturally grew anxious that I had forgotten something! Was my mic off the whole time? Was the information irrelevant?

"This is absolutely incredible! You sent so many amazing materials! My son is totally intrigued, even with these math cubes!"

Well, there you go. I hadn't done anything wrong. On the same note, I personally hadn't done anything right! Often the community forgets just how many supplies go into fueling the education of young minds. It's common for people to assume that with a cyber school everything must be online, right?

Wrong. To ensure student success, all schools, regardless of model, need to provide the necessary materials. In the public cyber charter school model, the technology and all curricular materials are shipped directly to the student's home at NO cost to the family. I will be running through some of the materials my own students have received. While this may not be exactly the same as other cyber schools, it should give you a framework of what to expect in the younger grades.
Technology
Let's start with the materials you may be most curious about. The laptop your child receives from his or her cyber school is not only state-of-the-art, it's fully equipped with a webcam and software!
Those that will support your technology needs during the school year know every part of your student's online resources. They have installed the laptop with the necessary school programs and tools to help you and your child's teacher through instruction.
To ensure our students are able to use their laptops for daily lessons, PA Virtual provides families with a stipend of $35 a month during the school year to help offset internet costs. Cyber schools can vary in the amount they provide, so check with each school to determine what they offer.
What if your child's teacher supplies supplemental materials? Or, perhaps the curriculum includes more interactive components that need to be printed. Your child will also receive a school-issued printer with two ink cartridges to support their learning needs.
Physical Curriculum & Learning Materials
Congratulations! Your porch is piled high with new technology. You've taken the time to set everything up in your child's learning space. Naturally, it's surrounded with stick-figure pictures of pets and rainbows. Now, what are you going to do with it? What exactly are you and your child's teacher instructing with?
Get ready for that second round of packages. These are filled with components of the K12 curriculum. Check out the materials by their respective content area below. The materials listed are specific to K12 for the younger grades. You can even watch the excitement these materials bring with the #k12unboxing experience seen HERE.
Math

Language Arts

Lesson Guide Book
Activity Book
Manipulatives (including snap cubes and shapes)

PhonicsWorks Lesson Guide Book
PhonicsWorks Activity Books
PhonicsWorks Mini Readers
Picture Books

Science

Art

Lesson Guide Book
Activity Book
Picture Books
Simple Experiment Supplies (Graduated cylinder, safety glasses, magnifying glass, inflatable globe, magnet, mirror, and thermometer)

Paintbrush Set
Come Look With Me Art Books
Oil Pastels
Clay
Art Print Kit
Paint Set
ArtK Student Workbook

Music

Handwriting

Tambourine
Rhythm Sticks
Music Reference Guide

Zaner-Bloser Handwriting Workbook
See below an example of a 1st grader's curricular materials: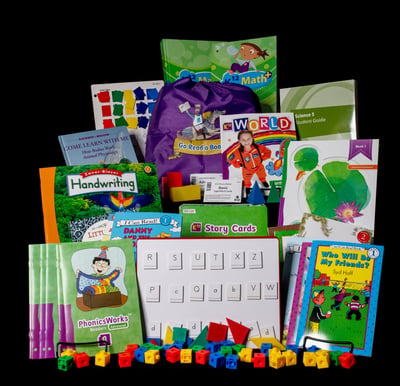 Virtual Curriculums & Programs
So, why do you need the aforementioned materials if your student's laptop is loaded with virtual curriculums and programs? The materials listed above supplement the virtual component of the curriculum. They ensure that your student is achieving a well-rounded education that employs the use of physical learning materials, writing materials, and manipulatives.
Let's take a look at the hierarchy of these programs as they relate to your child's education. Please keep in mind that the resources mentioned will vary based on your student's grade level. Different virtual schools will include their own chosen set of programs. These programs do not include those used to establish baseline levels or special needs.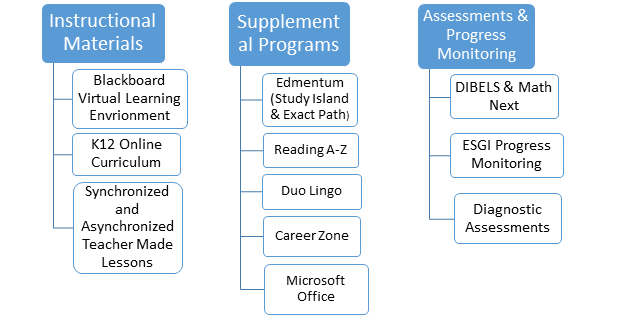 Virtual Home Learning Support
Have no fear, support is here! There's a natural learning curve when transitioning to an online education platform. Cyber schools such as PA Virtual have developed superior resources to help you and your student navigate the virtual school environment.
Family Support Coordinator – Once enrolled, each family is assigned a Family Support Coordinator. This "go-to" individual is quite talented at helping you through the virtual education journey and offering one-on-one support. They are an excellent resource for non-academic needs like capturing daily student attendance and helping with technology concerns.

Technology Support – A lot of programs go into a well-run cyber school. Questions and concerns will naturally arise. The technology support team is highly qualified at walking you through your issues to find a resolution.

Teacher Communication – Your student's synchronous or asynchronous teacher is here to support each student's educational needs. Our teachers are sincerely interested in student achievement and will respond within 24 hours of any email inquiry. Many hold online office hours to connect with you and the students. The asynchronous teachers will develop lessons that support the online curriculum while thinking about your student's needs.

Special Education and ESL Services – Just like a typical brick and mortar school, virtual schools are fully equipped with special services to accommodate students' needs. Special education teachers, speech therapists, and ESL teachers are just a few of the resources you will find. If your student goes through a special education evaluation and qualifies for services, they will receive the resources, tools, and instruction they need to maximize their learning.
Conclusion
When your enthusiastic learner opens their pile of packages, be sure to embrace their excitement. Support their overwhelming interest in the materials and feel free to page through the books. A tremendous amount of thought and research goes into these curriculums, programs, and supplies.
After 20 years serving the community, PA Virtual has learned what parents expect from them. They know that with great technology, families need a support system to help them through any issues. A comprehensive online curriculum will need additional guidance from teachers and physical materials. A transition this big will require coordinators, counselors, and other support staff. If the education of young minds is at stake, then financial support for wireless should be provided to ensure success. It is without a doubt that virtual schools have their students' needs and learning at the forefront.
Want to experience our virtual classroom first-hand? Join us at an upcoming Online Open House. At the Open House, you will get to see an overview of our technology, learn more about how we support our families, and much more. RSVP here.
About the Author: Amy Dajczak is a kindergarten teacher at PA Virtual.