Subscribe
What is Labor Day, and Why Do We Celebrate It?
Did You Know? | Quick Tips in Education
When the first Monday in September rolls around, people in corporations, small businesses, and even cyber charter schools across the country pause for Labor Day. But what exactly is this holiday, sandwiched between August and October? In this blog, we'll explore the history of Labor Day, and ways you can celebrate it!


---

Ah, September: time for back to school, pumpkin spice, and Labor Day.
Many people don't know that this federal holiday (which is also the unofficial end of summer) dates all the way back to the late 1800s! But how did it evolve into what we know today?


Beginnings in Labor History
Labor Day is known as a "workingman's" holiday, one that celebrates the contributions that workers across the United States have made to the "strength, prosperity, and well-being" of the country, according to the US. Department of Labor. After all, employees keep the ideas flowing, the machines turning, and the economy moving!
Originally, the idea of this holiday began with the labor movement during the U.S. Industrial Revolution, where many workers were working 12-hour shifts, seven days a week. Poverty was still rampant, particularly for recent immigrants, who were discriminated against and faced harsh working conditions. In some states, children even worked in factories, mines, and mills, starting as early as age five!
Manufacturing took center stage as the country's main employment source, and labor unions began to give voice to the average worker. Their mission was to bring awareness to deadly working conditions, as well as try to convince employers to offer better hours and competitive wages.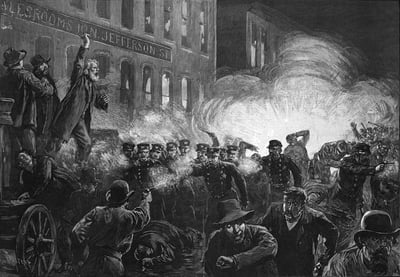 Depiction of Haymarket Riot in Harper's Bazaar Magazine, circa 1886


Actions and Consequences
Unfortunately, some of the protests took a more violent turn, such as the Haymarket Riot of 1886 in Chicago, Illinois. Workers and law enforcement clashed, which led to heightened tensions and further conflict.
Other protests were marked with more peaceful demonstrations, such as the first Labor Day parade in 1882. Ten thousand workers marched from New York City's City Hall to Union Square, an action that inspired other industrialized cities across the United States.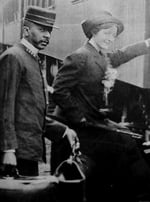 One of the pivotal moments of the movement came in May of 1894, when Pullman Palace Car Company employees went on strike against both the slashing of their wages and the firing of union representatives. The company was known for hiring African American men as porters on luxury railroad sleeping cars, and became the largest employer of Black men (especially former slaves); while this gave them employment and helped shape a new Black middle class, workers unfortunately faced very long hours, lower pay, and racism.
A month later, the American Railroad Union supported a boycott of Pullman cars, bringing railroad traffic to a halt. When the federal government tried to break the strike, riots ensued. Just days after the riots, President Grover Cleveland signed Labor Day into law, making it a legal holiday across the United States.
Pivotal Figures
First and foremost, the most crucial figures to the labor movement were the workers! In the 21st century, it's difficult for many of us to imagine working 12-hour days, seven days a week, in conditions where we are in danger of suffocating, a factory catching fire, and more. These workers continued to push the economy forward, even while trying to initiate change.
But who actually founded the day? There isn't conclusive evidence pointing to one founder, but research suggests two different individuals: Peter J. McGuire and Matthew Maguire. (Confused yet?)
McGuire took the idea of a labor-honoring holiday to the New York Central Labor Union in May 1882, to "be celebrated by a street parade, which would publicly show the strength and esprit de corps of the trade and labor organizations." He later joined Samuel Gompers in creating the American Federation of Labor, and helped bring about the adoption of the eight-hour workday.
Maguire, also a champion of the working individual, was a leading figure in the Central Labor Union of New York, and also pushed for better conditions. After Labor Day was signed into law, an opinion piece in the Paterson, New Jersey Morning Call claimed that Maguire was actually "Father of the Labor Day holiday."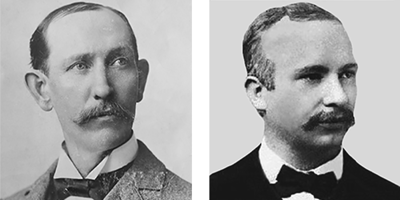 (Left to right) Matthew Maguire and Peter McGuire (image courtesy of U.S. Dept. of Labor)
How to Celebrate Labor Day
Near the end of August, you might see stores advertising Labor Day Weekend sales. While this holiday, like many others, has become commercialized, you can still celebrate the spirit of the American worker!
Many cities have Labor Day parades, so check out your local city or town to see if they have one near you!
If you're looking to head out and honor the efforts of hardworking individuals in your region — whether an official celebration or not — then check out some of these happenings over Labor Day Weekend!


If you love a good fair, then consider attending the Great Allentown Fair over Labor Day Weekend, and enjoy food, rides, garden shows, concerts, and more!
From county fairs, to farmers markets, to apple harvest festivals, celebrate your Labor Day Weekend in style by heading outdoors!
Whether you're heading to the Made in America Festival on the Benjamin Franklin Parkway, checking out concerts at the Wells Fargo Center or Citizens Bank Park, or visiting The Franklin Institute, there's something for everyone! Don't forget fireworks over the Delaware!
For those of you near Pittsburgh, you have a plethora of options! From the Allegheny County Music Festival, to the Pittsburgh Soul Food Festival, the city has more events than you can probably attend in one weekend!
Head on over to Kiwanis Lake from 4 to 9 p.m. for the city's 2022 Labor Day Festival!
However you decide to celebrate Labor Day, remember to take the time to stop and thank the workers who keep our economy running — which may include yourself!

About the Author: Shelly Hillman is the Content and Communications Manager at PA Virtual.
---
Photo credits to:
- Josh Beech on Unsplash
- Harper's Weekly, Public domain, via Wikimedia Commons
- Unknown author, Public domain, via Wikimedia Commons
- United States Department of Labor