Subscribe
What is Earth Day, and How Do Cyber Schools Celebrate?
About Cyber Education | In the Community
Most of us have heard about Earth Day, which encourages everyone to consider sustainability and other environmental concerns. But what role do cyber schools play? In this blog, High School Principal and GLOBE Program Club adviser Dr. Shaikha BuAli answers that very question — and shares some ways to get involved on Earth Day!

---

April means longer days, more sun, beautiful blooms, and Spring Break, but let's not forget about another important aspect of this month — Earth Day!
Earth Day is an important occasion, not just in the United States but also globally. While there are many significant reasons the world celebrates Earth Day, some of the main ones are to raise awareness of the importance of biodiversity and the environment, seek to protect precious natural resources from pollution, and educate others on how to help maintain a clean habitat for not only our current population, but also for future generations!
In this blog, I'll talk about this special day, what some cyber school students do to celebrate, the GLOBE Program at PA Virtual, and share some ways that students and families can get involved.


What Exactly is Earth Day?
Let's start with a bit of history. Earth Day is celebrated annually on April 22. The very first Earth Day took place 52 years ago when, in 1970, a national demonstration was organized to raise awareness about different issues that affected the environment. By 1990, over 140 countries celebrated Earth Day.
Today, according to The Earth Day Organization, this occasion is celebrated in over 190 countries, and over 1 billion individuals worldwide engage in activities every Earth Day. While some activities vary from place to place, they all share the common goal of raising awareness and helping the environment.
Some organizations advocate through the arts and humanities, from individuals writing about Earth Day and acting out theatrical plays, to others publishing short stories and poems. Different environmental organizations will often create competitions to engage communities and raise awareness of different issues.
Many organizations provide free workshops or classes on how to upcycle materials in an effort to keep them out of landfills and give new life to different items. The organization Beyond Plastic estimated that one million single-use plastic bottles are bought around the world every minute, contributing to the over 15 million metric tons that enter the oceans each year. So what does that mean? It means that, if we don't make an effort to reduce this waste, then by the year 2050, plastic could outweigh fish in the ocean.
Earth Day is also a popular day for organizations sponsoring and engaging in activities that eliminate pollutants and clean up the environment. From beach clean-ups to picking up litter and planting trees, every little bit helps! While much of our electricity currently comes from fossil fuels, awareness about alternative energy from sources like the sun, wind, and water helps us to explore new ways of powering our daily lives. We can all do our part by selecting renewable energy sources when possible, making sure we do not waste water, and turning off lights when not in use.
Cyber School Connections
So how does this all tie together and relate to PA Virtual? Glad you asked! Not only do all our students learn about the environment and ecosystem starting in elementary school, but we have such a diverse student population across the Commonwealth that we all get to share our knowledge, experience, and ideas. These exchanges happen in class during science and outside of class in our clubs, extracurriculars, and honor societies.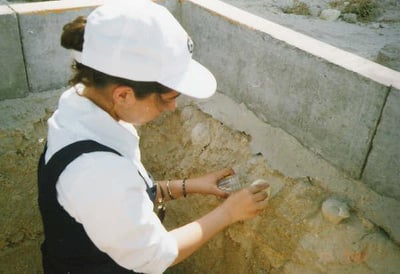 That's me, collecting soil samples as part of GLOBE


Earth Day Around the GLOBE
One of the clubs that personally means a lot to me is the PA Virtual charter of the Global Learning and Observation to Benefit the Environment (GLOBE) Program Club. When I was in middle school, one of my teachers told me about the GLOBE Program, and it has since had an everlasting impact on my life.
GLOBE is a program that is active in over 120 countries worldwide, and teaches students the basics of scientific research through inquiry, making hypotheses, collecting data, and coming to conclusions to learn more about the environment around them. However, it does not stop there, because the program is global and works with scientists and researchers from well-known universities and government organizations such as NASA, the National Science Foundation, and the National Oceanic and Atmospheric Administration. Because of this, students have the opportunity to collaborate with scientists, researchers, and educators, and students from around the world!
As a student, I was able to participate in countless workshops, training, collaborations, and research opportunities. In addition, I was able to research soil quality and its effects on what can be grown, as well as water quality and the effects on marine life — and presented my findings to students, scientists, and community members on an international scale.
Being a member of the GLOBE Program didn't just help me connect the content to real life; it helped me learn more about the world around me as a whole. I learned about different cultures and languages. I developed public speaking skills, writing, and research skills. I made memories and friendships across the world that are still thriving to this day. The program brought us all together through common goals: to learn, spread awareness of, and protect our world for generations to come.
When I joined PA Virtual, establishing a GLOBE Program Club was one of my goals for our students. I wanted to provide them with the same opportunities I had growing up. Since our school is virtual and GLOBE has a vast network of schools and connections across the globe, it was a unique opportunity for students to learn and get involved. Starting with our younger students, the atmosphere protocols allow elementary students to learn about creating weather stations, weather patterns, and cloud protocols. By middle school, the protocols expand to the biosphere and hydrosphere, where students learn about land cover, soil characteristics, and water quality. Our students in the GLOBE Program can't wait for the weather to get better so we can coordinate our field day outing to collect and analyze data! All students are welcome, even if they are not a member of the program.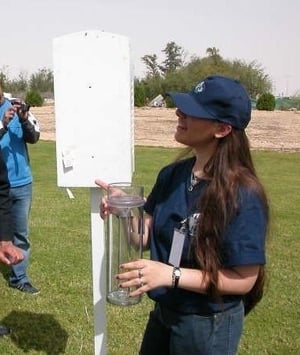 Also me, presenting on how to collect and take measurements from a weather station
Ready to Dive in and Celebrate?
While the GLOBE Program is one of many clubs and activities that highlights the importance of Earth Day, even if you are not involved in one of the clubs, there are many other activities that teachers do around Earth Day in class. And don't forget about what you can do at home! Some ideas include:
Planting a tree or garden
Taking your reusable bags to your local farmers' market to get your groceries
Upcycling your milk cartons, bottles, and more into bird feeders and other crafts
Picking up litter in your local park
And more!
One of my personal favorite ways is to spend the day in the garden. Whether you have a small window planter or acres of land, you can contribute and help the environment by creating your own compost, growing organically, and avoiding plastic and harmful pesticides.
As a parent of three elementary-aged children, I have spent a lot of time explaining and connecting the theory to the practice as many of our Learning Coaches do. This includes demonstrating how seeds can become seedlings and the different parts of the plant, to the diverse ecosystem needed for plants to grow. We do our best to use as many natural resources as possible such as using bamboo shoots to trellis our vegetables and making sure we have a balanced pollinator garden that supports a healthy ecosystem. Instilling in the next generation the importance of understanding, valuing, and appreciating the world around us is critical to making sure our planet survives.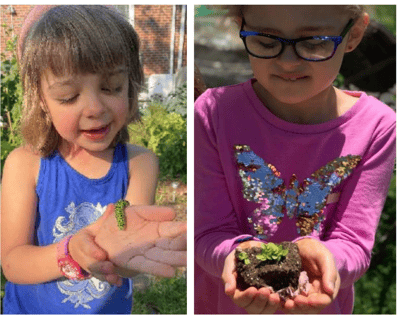 Two of my children, enjoying nature
Concluding Thoughts as We Look Forward
We have an incredible planet, one full of life and beauty! It's important to try to protect the resources around us, not only for our families but for future generations. Changing our habits and working together to reduce pollution, recycle, and reuse are just some of the many ways to make changes — but we need to remember that we can all contribute and play a part.
PA Virtual encourages all of our students to get involved, no matter how small, because together we can make a difference!
We look forward to seeing what you are doing this Earth Day — so share your Earth Day plans, photos, and more in the comments. Also, let us know if there is something you would like to learn more about as PA Virtual gets ready to kick off our summer sessions!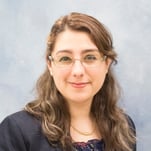 About the Author: Dr. Shaikha BuAli is the High School Principal at PA Virtual.
---
Photo credits to: Noah Buscher on Unsplash; and Dr. BuAli.