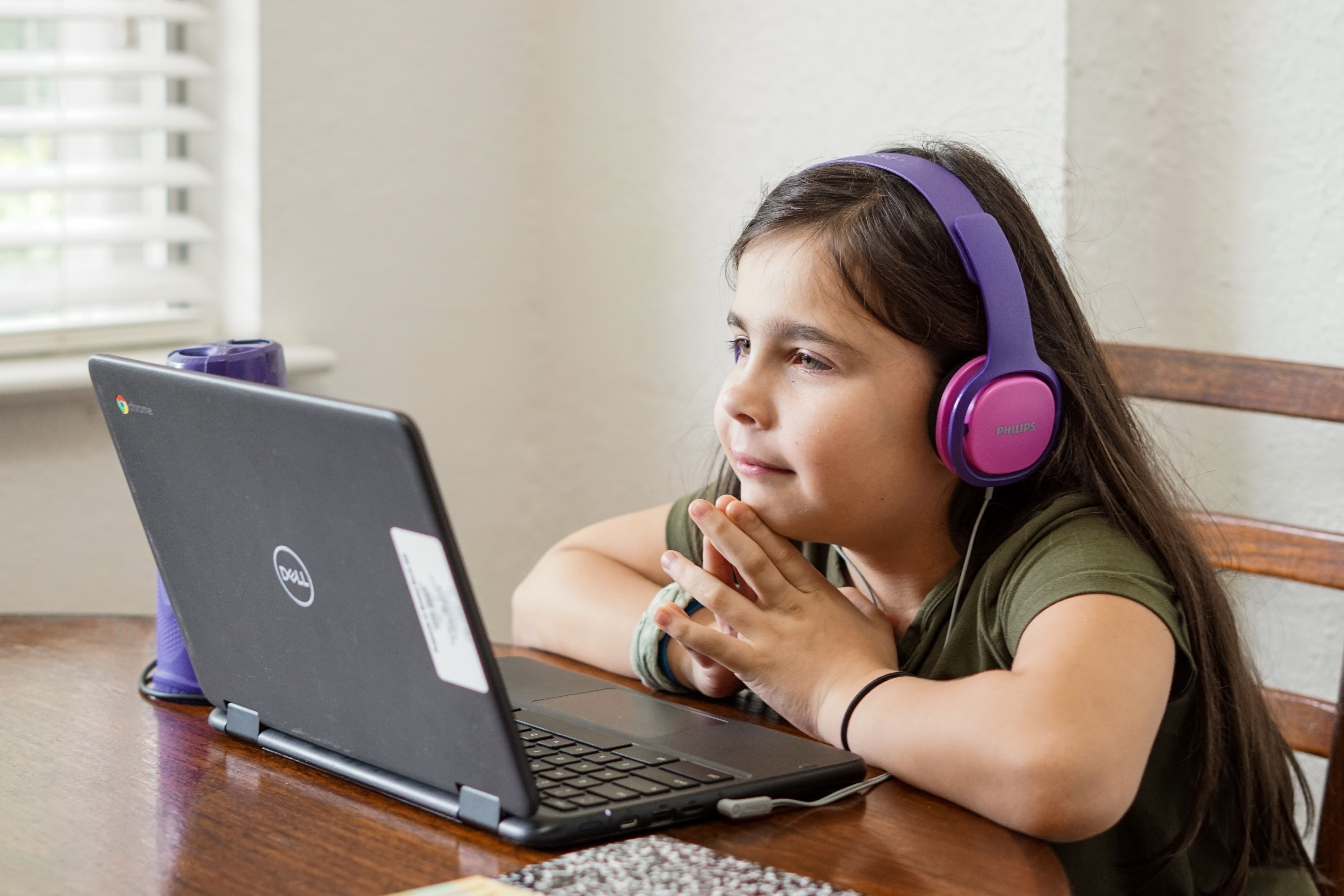 Subscribe
Life as a Cyber Charter Elementary Teacher
Each day, the teachers of Pennsylvania's 14 cyber charter schools find new ways to present content in a virtual educational model, offering their expertise to students from PreK through grade 12. But what is the experience like when you teach virtually, as opposed to a traditional brick-and-mortar school? And how do you maintain connection with students? In particular, how do you keep younger children engaged in their learning?

In this post, I'm going to share what it's like to be a Kindergarten through grade 4 teacher at a cyber school.
Being a cyber school teacher does have some similarities to that of a brick-and-mortar educator.
We have the same state standards and criteria for our students, but use a different medium. All teachers want their pupils to succeed and do well, and that is where planning and preparation come in. Let's start from the beginning, and look at preparation, classes, and digital tools.

Preparing for the Year
Before the school year begins, teachers have a lot to prepare.


Training, training, training!
These end-of-summer trainings vary, depending on level of teaching, the district's needs, and what staff members have requested. The sessions prepare teachers to use new tools in order to best help their pupils. After all, it's all about our students!

Our training helps with technology, teaching techniques, assessments, expectations, and even self evaluation — often sparking fresh ideas for our classroom spaces. Here at PA Virtual, we engage in continual training throughout the year in order to gather new concepts and valuable feedback.
It's almost time!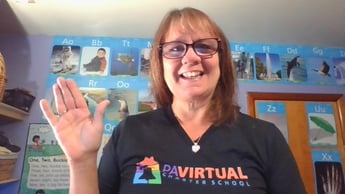 There's a tangible excitement when we receive our student lists. While we know that these will change during the first few weeks as new families arrive and some move, just having the student names gives us some joy as we look forward to the year. Armed with this information, we then tackle the job of personalizing the classroom and developing different programs. We also spend time practicing our recitation of student names, ensuring we pronounce them correctly. It is heartbreaking to a teacher when they mispronounce a student's name, so we practice to try and get it right.

Another key component of beginning the academic year is getting to know our students and their families, and sending out items that they will need for learning. Students are eager to learn about us as educators, so we also think of creative things to share about our lives — and ultimately help students feel part of the community and that they know us.
Some final checks
Just like in a brick and mortar school, our classrooms need to be ready, and for us that means working out as many glitches as possible ahead of time. As a teacher, it's vital to double-check virtual classroom access, update class lists, and make last-minute lesson plan adjustments before school starts the next day.

If this sounds like we are doing a lot, it is! But it is worth EVERY minute when we make connections with our students. That relationship can change the students' perspectives and transform a decent year into a great one.
Engaging with Elementary Students
We've covered the beginning of school, but how do elementary teachers engage with students the rest of the year?

Once we are a few weeks into the semester, students know their teacher and one another better, and everyone is aware of the classroom expectations. Now educators are identifying which students may need some extra skill building, while challenging any students with advanced learning needs — all while keeping an eye on state standards.

Our plans and activities are always adapting to students' learning styles, which evolve as the year continues and we assess their knowledge. Even fun, simple lessons are designed to make students feel comfortable, interact with one another, and inform us of where they are in the learning process.


Encouraging Participation
Keeping students engaged and participating is always top of mind for teachers. In the elementary school, we entice young learners with Pizza Hut reading programs, Meet a Scientist interactions, special guest readers, and even show and tell sessions.

Engagement and participation can occur in the simplest of ways as well! My first class of the day is ELA, where we spend 15 to 20 minutes meeting, singing "good morning," and taking attendance. This activity provides a wealth of feedback regarding student engagement level, whether or not they paid attention to learn the movements and songs, and also teaches them to communicate with others and use social etiquette. Plus, movement is a fun way to learn concepts and get the wiggles out!

From there, we discuss what we'll be learning that day, sing a song about our current lessons, and practice some concepts before breaking into groups. Small group work is also an integral part of our classroom experience and student engagement.
Tools of the Trade
As you can imagine, cyber charter teachers use a plethora of digital tools in their daily lives. Elementary educators at PA Virtual use the Online School (OLS) for lesson plans, as well as the Jigsaw Interactive virtual classroom. Prior to each day, I prepare concept-reinforcement activities to enhance the day's lessons using IXL, an additional learning platform.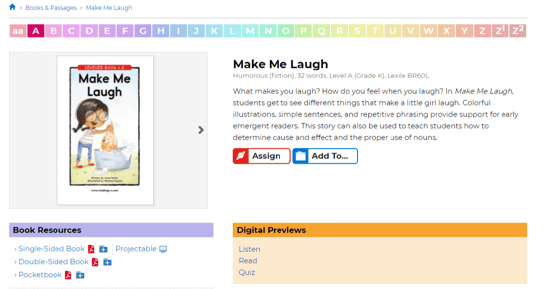 As the year progresses, students work in Reading A to Z, an online reading program with downloadable books. This tool is particularly helpful in my classroom because the students record themselves reading, which allows me to assess their fluency. After the school day finishes, I check both IXL and Reading A to Z and note each student's improvements and any difficulties — a personalized touch that allows me to plan what stories and skills each child should work on next.
When it comes to math time, I start with a look at the calendar to count the number of completed school days, which helps with patterns, number, and skill-building concepts. Students respond using our digital white board as they answer questions and share their thoughts.
A main highlight of math time for me as a teacher is using Nearpod, an interactive instructional tool that I became certified on this past summer. A distinct advantage of Nearpod in its ability to have students work in the program to build their skills, while I monitor their progress both in the tool and via their computer webcam. Students cannot see one another's work, so I am able to assess their individual progress, as well as watch for any visible signs of frustration, anxiety, and other aspects that I may need to address later.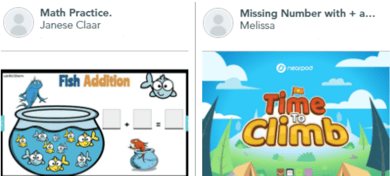 In addition to these classes, I prepare lessons for science and social studies, always aiming to create interactive experiences so that students use their skills to learn about the world around them. A key element is to create activities that build on the subject, while creating interdisciplinary connections with their learning in ELA and math. Our lab sessions focus on skill development via small groups, while students not in the current group continue to work in our OLS and other programs such as IXL, Reading A to Z, Nearpod, and Reading Eggs, another interactive literacy program.
Building Relationships
At the heart of a PA Virtual education is the building of relationships with students. Being in a virtual setting doesn't diminish our ability to connect! I intentionally find time for 1-on-1 meetings with students so they can demonstrate what they know, without the pressure of potentially making mistakes in front of their peers.

Let's not forget the Learning Coaches and families! It's crucial for teachers to connect with the LCs as well, as these parents and guardians are a driving force behind student progress. As a parent myself, I remember how lost I could feel at times during the school year (particularly at the beginning), so staying engaged with the Learning Coaches minimizes these feelings, and creates a better overall learning environment.

This year I also implemented Flipgrid as a fun way for the students to give me information on video and share it with their classmates. It's a wonderful to see their expression and opinion on the subjects after class ends. They readily embrace any new connection method that I introduce — and then they thrive!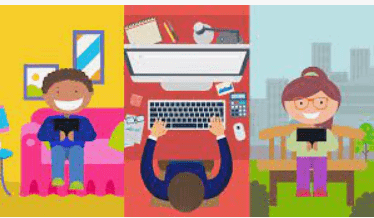 Benefits of Teaching Online
Being a cyber charter school teacher offers a number of benefits, including flexibility in my work space, as well as being able to work remotely. Cutting down on commute times allows me to invest that time into lesson plans and encouraging students.

Teaching virtually also allows educators to learn new technology and platforms, and how these are used to enhance not only the learning process, but the teaching experience. We often embrace these programs first as a way to help students, but then as a way to expand our instruction — and keep us educators on our toes!

The diversity of PA Virtual students from across Pennsylvania continues to astound me, and I benefit from learning something new each day. Hearing their perspectives as they draw on different experiences continually sharpens my understanding of my class, myself, and the world around me. While this would also be found in a brick and mortar setting, I wouldn't have the same breadth of students from differing geographic, educational, religious, and ethnic backgrounds.

As a parent myself, it is nice to teach from home because it makes work-life balance that much easier. When the school day is complete, and I need to be somewhere for my family, there is zero commute back home! Additionally, working remotely lends itself to a healthier lifestyle, as I eat better lunches, don't forget my lunch some days, and am less tempted to order out or grab something from a drive-thru restaurant.


Challenges of Teaching Online
Teaching remotely is not without some challenges, however, including how to keep young students engaged in lessons, especially when they are surrounded by the distractions of home. I address this by drawing on a number of interactive activities, encouraging students to physically move, and adapting my teaching to their needs.

Another challenging aspect of teaching online is finding the optimal way to guide parents, as well as Learning Coaches, in how to be involved and support their students each day. Like us teachers, LCs are balancing their various roles as parent, coach, homemaker, and sometimes career professional. Consistent communication helps minimize confusion, and ensures that parents have the tools they need to help their child succeed.

In any school, trying to get in touch with families in order to resolve problems can be a daunting task. In a brick and mortar setting, parents would need to take time out of their day to drive to the school building to meet. In a virtual setting, however, I can easily touch base with LCs after class. They have that 1-on-1 opportunity to speak directly with the teacher in a more convenient manner — and it deepens my connection to the family.
Advice for Prospective Teachers and Parents

Teachers
A cyber charter model offers educators many new opportunities for professional and personal growth, requiring adaptation in order to engage with students in different ways. Many teachers experienced some form of virtual education in 2020. Despite the circumstances surrounding this shift, some individuals found that it better suited their teaching styles. If it appealed to you, then now is the time to take the leap!
But don't worry: you won't go it alone! Your principals, administrators, and especially fellow educators are there to help.


Parents
For any parents who find that a brick and mortar school isn't a good fit, then it's time to give cyber charter a try! The model may benefit your student in great ways, and cyber charter schools in Pennsylvania are public, tuition-free options!
Here at PA Virtual, we provide the books, computer, printer, and more for your child to get started. Just be aware that as a cyber school parent, your partnership is crucial to student success, no matter the grade level!
Once you enroll, we have additional resources to help you through your first year at PA Virtual. Our Parent Ambassador Program hosts Lunch and Learn sessions on Mondays, and New Family Fifteen meetings on Fridays. Both series connect PA Virtual parents and provide answers to important questions that you may have.
Teaching in a virtual environment can be just as busy as a traditional brick and mortar model when it comes to preparing and managing the classroom. With so much beneficial technology at our fingertips, we're always preparing students, and ensuring they have a strong foundation as they take their next steps. There are certainly benefits and challenges that come with working at a cyber charter school, but we're all driven by one mission: to equip students with excellent academic education, social skills, and character development for their lives as productive 21st-century citizens.

About the Author: Janese Claar is an elementary school teacher at PA Virtual.
---
Ready to learn more about cyber schooling? Check out our Ultimate Guide to Attending a Cyber Charter School in PA. This comprehensive guide includes a comparison of cyber schools and examples of curriculum, and it can help you decide whether cyber school would benefit you and your family.


Photo credits to Thomas Park on Unsplash, and Janese Claar.