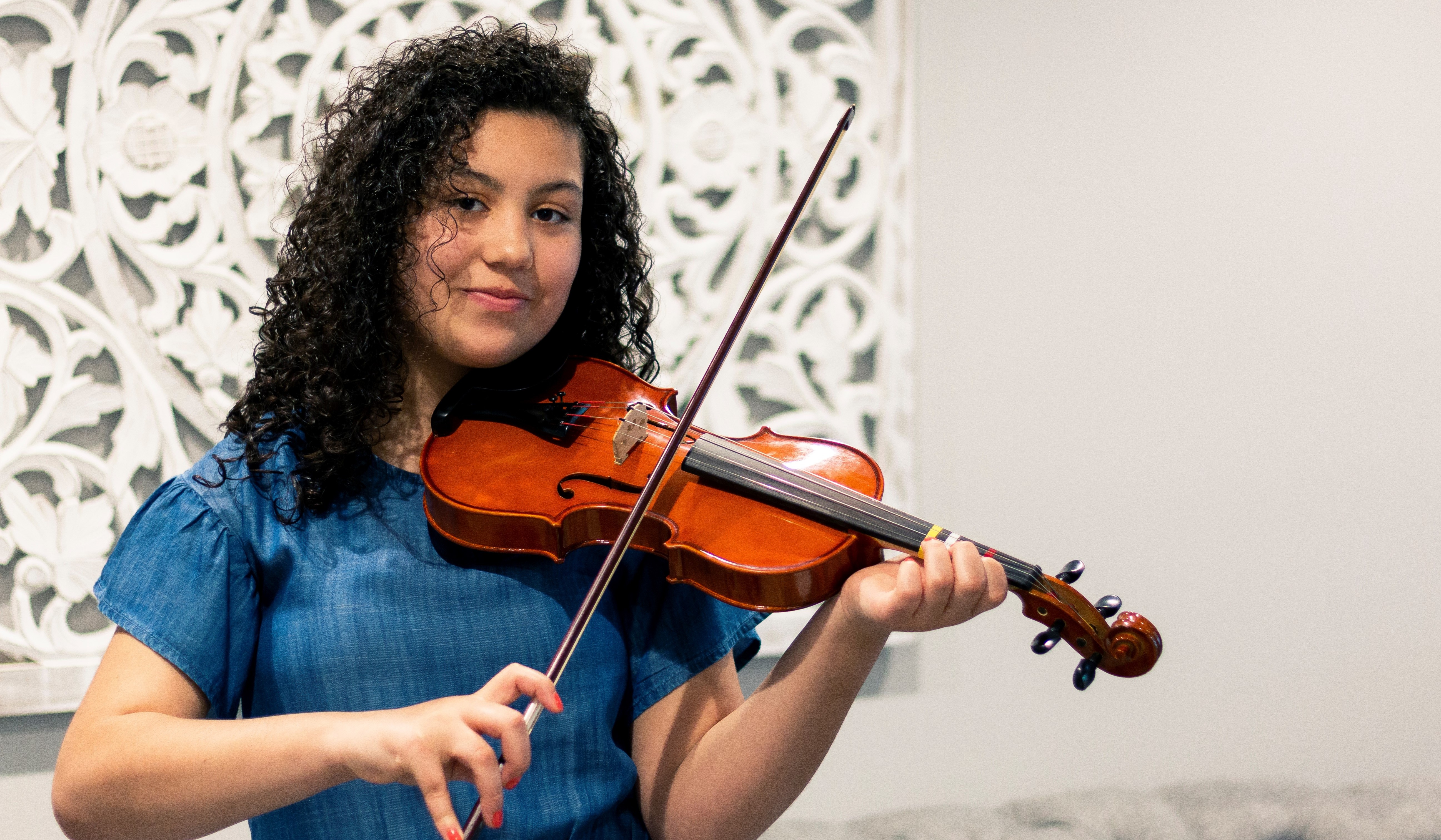 Subscribe
How is Music Taught at a Cyber School?
Parents are often curious about how music experiences work for students who attend a cyber school. Learning music virtually is quite similar to what it would be in a traditional brick and mortar setting. We learn music by listening. We learn music by creating it, by playing instruments and singing. This is a field that continues to evolve, but in this post, I'll explain more in-depth how music is learned and taught and how I connect with students through music in our virtual environment. If you're wondering, "how is music taught at a cyber school?" you've come to the right spot.
How is Music Taught at a Cyber School?
I've been teaching music since 1998. I first taught in a traditional brick and mortar classroom, and I've been teaching music virtually since 2009. Although learning music is rather consistent from one educational setting to another, there are some changes to how I present those experiences.
In our virtual school, we use a whiteboard program for our classes. The students can see and hear me as I teach, and they have the opportunity to turn on their webcams and microphones so that I can see and hear them as well. I can share videos, websites, song lyrics, sheet music, virtual instrument tools, or whatever other resources I need to support what I am teaching. The students can participate in discussions, perform for each other, or perform together, all from the comfort of their homes.
Importance of Music in Education
There are few things you do in life that engage your entire brain. Music is one of them, activating your brain's motor, emotional, and creative centers. Studying and creating music can actually help to strengthen your cerebral cortex, and learning to play an instrument can improve your fine motor and reasoning skills. You can use music to improve your workout performance, change your mood, increase brain function, and increase dopamine levels. Jason Mraz is quoted as saying, "Music is a weapon in the war against unhappiness."
Not only does music help students academically and emotionally, but it can also provide a fun and interactive way to learn and socialize with others. With so many positive benefits, it is crucial that all schools, whether brick and mortar or cyber, continue to offer music as an experience for our students.
Teaching Instruments
Learning to play an instrument has many benefits, such as increased patience, building confidence, and it opens up a variety of social experiences for students.
PA Virtual's elementary students receive several instruments as part of their curriculum. A recorder, drum/tambourine, and rhythm sticks are shipped to the student's home as part of the curriculum package. With these basic instruments, we are able to learn and practice many music concepts and skills related to rhythm, melody, and tempo.
For instruments that are not as easy to ship, such as a xylophone, piano, or variety of drums, we provide virtual options to learn and practice those instruments. I also create videos, such as this one, which teach a specific song each month that the students can learn on their own. For this specific song, I offered videos teaching vocals, the acoustic guitar part, and the bass guitar part.
Many of our students also have the opportunity to pursue individual instruments further through their local school districts, homeschool choirs and orchestras, private lessons, and other community groups.
Teaching Vocals


Singing has some amazing health benefits and provides students with a way to express themselves and connect with others. It can boost immune system function, increase mental alertness, and reduce stress. The best part is that each and every one of us was born with a unique voice that we can develop and share with others.
I create videos, such as this one, and provide classes with experiences that encourage students to explore and develop their own voices. I invite students to participate in school-wide talent shows, which bring students in all grades together to support each other. PA Virtual also offers a Virtual Voices Club, which allows middle and high school students who are passionate about singing to come together to learn to be better singers and to perform for each other in a fun environment.
Benefits of Learning Virtually


There are actually many benefits to learning music virtually. If I were to stand in front of a classroom and teach a song, the students could only hear it during that particular class period. By creating videos of songs or lessons, students are free to watch, pause, or repeat the video as many times as they wish to learn the song. Students can sing or play along from the safety and comfort of their own homes, removing any awkwardness or shyness some might feel performing in front of their peers.
Not only do I connect with my students virtually, but PA Virtual also offers face-to-face outings where students can socialize and connect through music in fun activities offered all across the state.
In conclusion, teaching and learning music online is similar to teaching and learning music in a traditional brick and mortar setting, but there are some extra benefits of learning music virtually. Regardless of how it is taught, music is a great and powerful tool for students to learn early in life to take with them as they learn and grow. I love that I have the opportunity to introduce that tool to students and to help them have fun creating and learning about music.
If you'd like to see more videos, check out PA Virtual's Video Library. You can watch sample classes, learn more about the basics of PA Virtual, and much more!
Want to experience a virtual classroom for yourself? We invite you to attend an upcoming online Open House with PA Virtual Charter School. You can learn more and RSVP here.
About the Author: Kat Anderson is a PA Virtual music teacher.