Subscribe
A Cyber School Celebration: PA Virtual Proud Spirit Week
About Cyber Education | Happenings & Perspectives | Insider Perspectives
Think that school spirit is only for a brick-and-mortar environment? Not at all! As PA Virtual Proud Spirit Week approaches, we take a look at what makes our teachers, staff, and students love being at a cyber charter school, and how they stay #PAVirtualProud every day! Thanks to Ms. Varalli for sharing her perspective!

---

"We've got spirit, yes we do! We've got spirit, how about you?"
More than just a classic cheerleading phrase, these two lines are at the heart of school pride — whether you attend a brick-and-mortar school, or choose a cyber charter model. Over the last 12 years here, I've seen many PA Virtual Proud Spirit days. I've also watched almost a dozen classes walk across the stage to receive their diplomas, witnessed just as many first days of school, and felt that "last day before winter break" excitement. And today I'll share why this community continues to make me #PAVirtualProud.




A New Journey, A Sense of Belonging
When I started working here at only 23 years old, I was just a kid myself, embarking on a new adventure. I never dreamed I would still be a part of this wonderful community over a decade later. PA Virtual has a special way of just pulling you into its awesome culture, and making it that sense of community something that you wake up to every day, trying to achieve for our students and their families.
That feeling of belonging is a powerful memory from my first year here, and something I continue to cherish. I went to work each day and got to spend eight hours with my closest friends and family. All these years later, I never dread going to work, because I love what I do and the people I am surrounded by. Everyone at PA Virtual makes new students, families and even new team members feel welcome, as if you have always been a part of this one-of-a-kind team.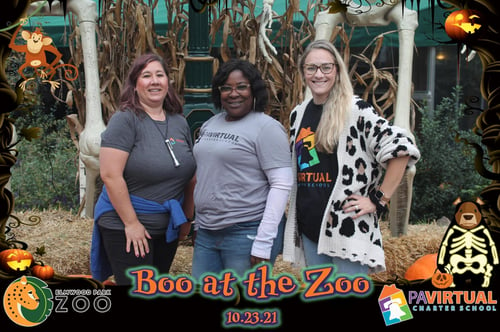 (L-R): Louri, our Assistant Director of Family Support; Lenora, Student Services Coordinator; and Heather, Marketing and Communications Specialist
School Spirit at a Cyber Charter
This sentiment shines through in our school spirit. It is important for a cyber school to generate school spirit excitement in different, creative ways. We have the task of getting students enthusiastic while they are home, which means school spirit can look a bit different for everyone!
Spirit days at PA Virtual have changed throughout the years, as we have grown and have many more faculty to share in the excitement. Even outside of Spirit Week, teachers show off their pride each day while they are having class with their students. They love to wear their school gear — from their favorite t-shirt and hat, to rocking their stylish PA Virtual sunglasses — while giving their lesson of the day. Administrators also join in on the fun by wearing their school shirts and colors to outings and other functions.
The creative minds of our faculty members are always thinking of ways to immerse our students in our #PAVirtualPride. An excellent example is the existence of PA Virtual Spirit Week. We have filled this week with fun ways for students to celebrate their school, take their very first Picture Day photo, and share it with their family and friends. They're also encouraged to wear wacky gear or school colors, and some students will even wrap up their spirit week by attending a local outing.


Giving Back, Camaraderie, and a Second Home
Year after year I have witnessed students showing off their love for their school making a difference in their towns across Pennsylvania. I've seen kids as young as five years of age fight the good fight for National School Choice Week, donning yellow scarves and PA Virtual gear in front of countless senators and other lawmakers! I've watched students raise money for the March of Dimes, volunteer at Cradles for Crayons, purchase gifts for families in need, and so many more touching moments of giving. These are just a few examples of how our students change their local communities — and is just a small piece of who PA Virtual is and why our families love our school!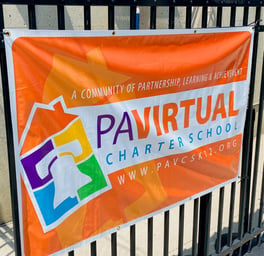 Camaraderie is a common theme here, including when we see the faces of our students light up when they get to meet their best friend from across the state, or witness students become fast friends at a gathering. When I think of love of the school, I think of our student outings! Family Support Coordinators plan events throughout the state for students to get together and learn new skills, such as crafting or how to make and launch their own rocket ship. This is where you can find students and staff across the state dressed in their favorite spirit wear, gathered under a pavilion with our PA Virtual sign hanging proudly for everyone to see.
I've been an employee since 2009 — often considering myself a PA Virtual Lifer — and have worked to make the cyber charter experience a reality for families. But for me, this place has become a second home. Years ago, we used to have events called Discovery Days, where staff worked for months to put on a spring fair for our students and their families. I distinctly remember my first Discovery Day. We rented out space at Oaks Expo Center, and worked together to make the day one to remember for our students. They played games, met classmates from near and far, and enjoyed watching their colleagues perform in our talent show. I looked around the large warehouse and was so impressed with our small community, and even more overcome by the talent of our students. From kids singing their hearts out, to others performing magic tricks, I felt myself bursting with PA Virtual spirit!


A Legacy of School Pride
I'm continually amazed at the dedication of faculty, staff, parents, and students, and impressed at the creativity and adaptability. This year, our entire community felt the pain and sorrow when we lost our beloved leader and CEO, Dr. John Chandler. If you ever had the pleasure of listening to John speak, you could tell how much this community meant to him. He was the embodiment of school pride. In every instant message, email, or meeting, his love of PA Virtual was palpable. His dedication to our community is something we all strive to attain, as well as his passion for ensuring that our students remain our first priority. His legacy lives on each day through our actions and love for the school.
I am, and always will be, #PAVirtualProud!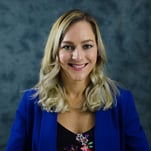 About the Author: Heather Varalli is the Marketing and Communications Specialist at PA Virtual.