Subscribe
Celebrating a New Year Around the World
Fireworks, parties, and food. New Year's Eve is an exciting time, as we say goodbye to one year and welcome the next. But how do people around the world mark this occasion? Check out celebrations from Denmark, South Africa, and more in this special edition blog!
---

As we approach December 31st, many places around the country and the world will be celebrating the coming of a new year.
However, many cultures celebrate this in different ways than what we may expect. Some cultures even celebrate the new year on a different date! Let's take a look at some of the many traditions that happen to bring us luck, prosperity, and good fortune in the year ahead.

Big Fireworks Displays
Many countries ring in the new year by having huge fireworks displays go off at midnight. It has become especially popular to have fireworks go off near an important city or national landmark. In New Zealand, Auckland Sky Tower is usually part of an impressive fireworks display, and the same happens in Sydney Harbour in Australia. In Toronto, Canada, it's in Nathan Phillips Square, while in Rio de Janeiro in Brazil, it's the city's famous Copacabana beach where the sky is lit up by fireworks.

Smashing Plates
If you came outside at midnight and saw a bunch of broken plates in front of your door, you may be confused and a bit upset. But in Denmark, that is a sign of someone wishing you good luck over the next year. Danish people often go to a friend or family member's house and smash a plate on their doorstep after midnight as a way to try and provide good luck all year round for their loved ones.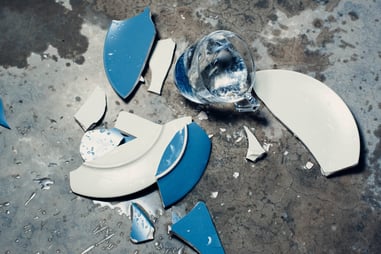 Eating Lentils
In Brazil, there is a tradition to eat lentils at New Year, as these represent money — meaning good fortune for the year ahead! Eating something for good luck also happens here in the U.S. In many southern states, having black-eyed peas on New Year's is a way to try and wish good fortune on yourself for the entire year.
Dropping Things
If you have ever watched a New Year's Eve celebration on TV, you may be familiar with this tradition. In New York City in Times Square, thousands of people gather to countdown to the new year and watch a giant ball drop as it counts down to midnight. What you might NOT be aware of is another drop that happens in Vincennes, Indiana. In this town, they have a watermelon drop! They welcomed the year 2020 with, you guessed it, dropping 20 watermelons!
Eating Grapes
When the clocks hit midnight in Spain, you'll find people reaching for grapes. This is because there is a tradition to eat one grape each time the clock strikes at midnight. The idea is each grape signifies one month of good luck. So, if you eat 12 grapes with the 12 strikes of the clock at midnight, you'll have a full year of good luck. If anything, you'll have a full belly of delicious grapes!
Dressing Up as Bears
You may be used to seeing someone dress up as an animal on Halloween, but on New Year's Eve? However, this is very common in Romania, as people dress up as bears to ward off evil spirits. Why bears? Well, bears in Romanian folklore have been known to have special powers, including the ability to protect and heal people. Hopefully, all of these bears will find this new year to be JUST right!
Ringing Bells
Making noise to ring in the new year is nothing new for people here in Pennsylvania, but in some countries, that noise is specifically made with bells. In Japan and South Korea, the tradition is to ring bells to welcome the new year and to be joyful. For Japan in particular, it is customary to ring the bell 108 times, as they represent the 108 worldly desires people may feel during a year that could cause them despair or pain. The 108 rings wash away any of those negative feelings, and give a fresh start for the new year.
Throwing Furniture
If you thought breaking plates in Denmark was a little destructive to celebrate the new year, wait until you hear what people in South Africa do! Specifically in Johannesburg, people try to start the new year by cleaning their minds and living space of any unwanted items. This has led to it being a sign of a fresh start to throw old furniture out their windows! Hopefully, they give people a warning before they throw that couch out!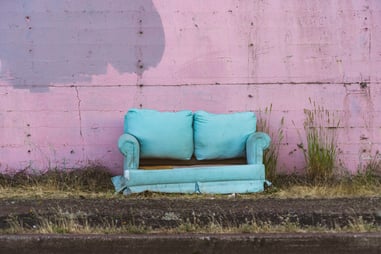 Empty Suitcases
In some South American countries, you might see some people on New Year's Eve walking around with an empty suitcase. Some believe that taking what is called a "suitcase walk" means they will have a year full of adventures ahead.


Do you have any family traditions to help bring in the new year? Let us know in the comments! Have a safe and happy New Year, and we can't wait to see you next year!
Editors Note: This blog was originally published in December 2021, and has been updated for accuracy of content.


Photo credit to cocoparisienne on Pixabay; Chuttersnap and Dan Meyers on Unsplash.