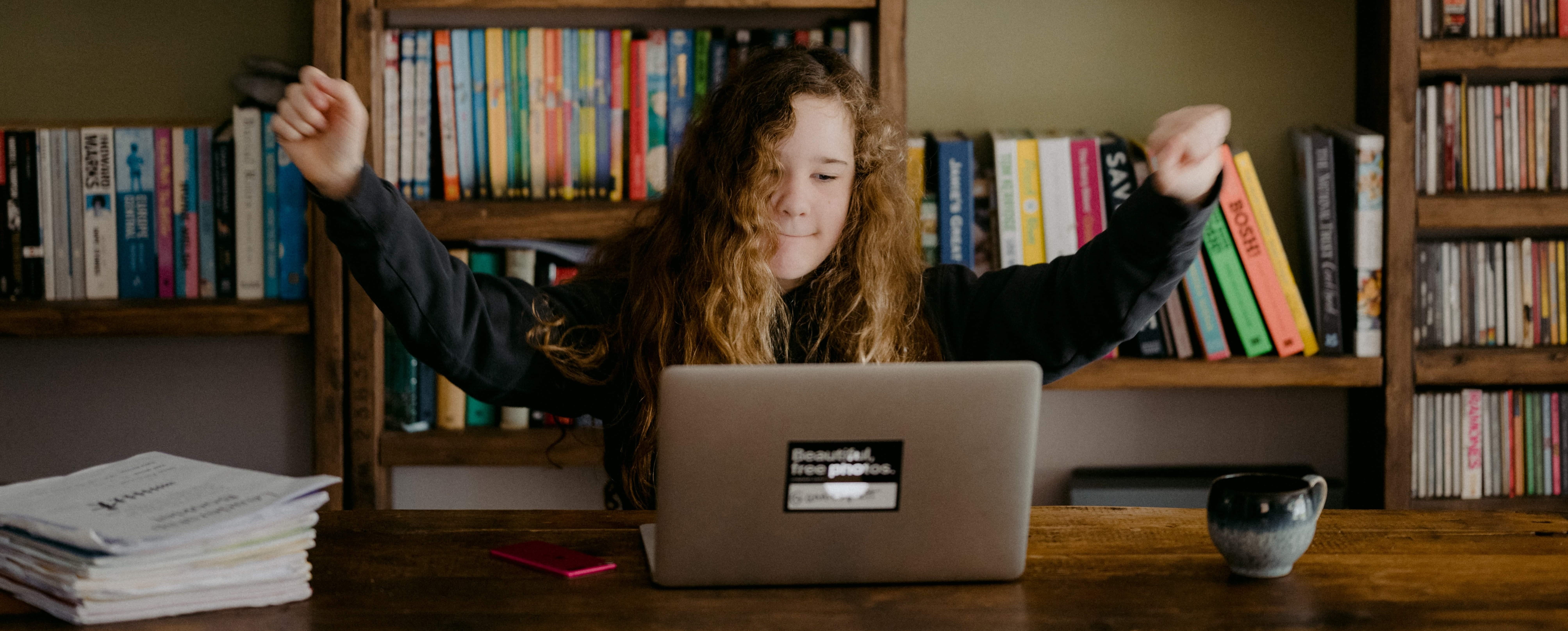 Subscribe
Best Tips and Practices for Teaching Virtually
About Cyber Education | Insider Perspectives | Quick Tips in Education
When it comes to learning in a cyber charter school environment, we know that organization and communication are keys to success. But what about teaching at an online school? Faculty member Janese Claar has some best practices and tips for teaching virtually.
---

Technology is an important component of every 21st-century school day — be it in a cyber charter school or a brick-and-mortar environment.
In 2020, many schools were forced to turn to fully online instruction, which proved a challenge to those who were completely new to the concept. Although technology is a key tool in classrooms and when doing assignments — including for textbooks and communication — the educational system as a whole wasn't prepared for the sudden switch to fully remote learning.
For cyber schools, virtual instruction is as natural as breathing. They possess the resources and knowledge to work through some of the challenges of online learning, while offering a host of benefits. In this post, I'm going to share some best practices for teaching virtually.
Tip 1: Prepare Your Workspace
The first thing any teacher needs to do is set up their workspace in order to have a successful year. Both virtual teachers and brick-and-mortar educators accomplish this same task, with a few differences based on physical setting.
Set yourself up for success by establishing a spot "where teaching happens."


Having your materials available and organized allows you to be efficient with your time, and minimizes the risk of losing your students' attention.


A weekly cleaning and organizational schedule helps keep the space clutter-free and your mind focused on the next class.


Don't get too comfortable! Teaching from your recliner may sound tempting, but having a separate instructional space is better.


Ensure that you have a solid Internet connection. If necessary, purchase another router or extender to keep your "classroom" connected.


A key difference between virtual and in-person instruction is the ability to have a quiet, more secluded workspace. Limiting distractions, be they noises or a cluttered background behind you, keeps you and your students on task.

Speaking of backgrounds, tailor yours to your grade level or subject. As a kindergarten teacher, I want to display the alphabet while having a whiteboard to demonstrate concepts. Some of PA Virtual's high school teachers decorate their background according to the subject they teach. Such small changes help keep students engaged, and demonstrate your interest as well!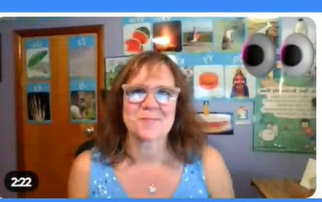 Tip 2: Establish Clear Expectations

As the classroom leader, students look to you to set the expectations and some routines for their work deadlines, quality, and process.
Even before the COVID-19 pandemic, PA Virtual had a diverse student population who attended for a variety of reasons, including health concerns, issues with being bullied, and more. These students adapted to the program by following our expectations, and we accounted for their needs. In 2020 cyber schools saw a massive influx of new students who wanted a safe experience, but knew little about the school or cyber charters, and nothing about our expectations. It was therefore important to establish those outcomes and guidelines.
Knowing and understanding your students is important to classroom success. They have clear expectations for you: to know not only their name, but who they are as an individual, as well as their learning difficulties and needs. While you may not be able to address all these elements, your job as an educator is to understand them to the best of your ability.


Parent orientations occur in both virtual and in-person learning environments, and serve similar purposes: To help parents understand our expectations of them and their students. These times are excellent opportunities to answer any questions that they have, as well as get to know the families. At PA Virtual, our Learning Coaches help us with their child's education, so it's crucial that we are on the same page.


Ultimately, you as the educator are responsible for nurturing students' class participation, setting grading guidelines, and creating and holding students to the syllabi and due dates. You also facilitate their lesson length, and establish how long they should expect to work independently each day outside of class. Removing confusion about these elements makes success a breeze!



Don't forget to communicate!

Staying in touch with parents is

important to me, and I am always available for the parents to email or call me. I work diligently to respond to them as quickly as possible, usually before the end of the work day, but in cases where I identify a concern, I can meet them in a breakout room to quickly touch base on a positive development or a potential student struggle. This responsive communication makes staying on the same page with the parents easier than in brick-and-mortar schools, where I would need to wait for them to call me back or find time to come meet in the school building.


Tip 3: Set a Routine — for Yourself
We've covered your expectations for students, but what about for yourself? As a virtual teacher, routine is a key component to success.
Contrary to popular belief, cyber charter teachers don't just roll out of bed and throw on a nice shirt to go with their pajama pants. Many of us have a routine, just like our brick-and-mortar counterparts! We need to send the message to students that being prepared and ready to start the day is important, and this applies to us as well as them. We're expected to be put together and not disheveled, while students need to get dressed, eat breakfast, and be ready for class.
Another important piece of advice is to build breaks into your daily routine. While PA Virtual builds periodic breaks into student schedules, teachers often continue to work and neglect to sign off, even briefly. Self care — be that taking a quick walk outside, performing some household tasks, or just resting for a few minutes — combats burnout and fatigue, which affects both students AND educators. When working from home, it's easy to fall into the "one more thing to do" mentality. We don't expect our students to be connected to schoolwork 24/7, so why should we expect it of ourselves?
Learning Coaches — this applies to you as well! You're a partner in your child's success, and those small pauses are beneficial for you too.


Tip 4: Be Creative and Flexible, and Utilize Different Channels
Just as we encourage our students to be creative, so should we teachers find innovative ways to instruct! When we discover new ways to teach students, and try to meet their learning needs in ways that relate to them, we communicate our flexibility. And our students take their cues from that! They and their parents may respond better to some channels over others, and with so many different methods at our disposal for teaching and communication, we have the opportunity to continually adapt and meet them where they are.
Plus, if you know anything about elementary school teachers, we tend to be an animated bunch — and our classroom tools should reflect that.
In my classes, I use a number of different channels and tools to keep my students engaged:
These tools are versatile and can be used on a variety of levels, from kindergarten through 12th grade. Their adaptability makes them ideal for teaching concepts based on students' interests and abilities.
Tip 5: Connect With Your Students
Connecting with the students is at the core of each educator's heart. It's why we do what we do! Your energy as their teacher is contagious, and keeps them interested.
Perhaps the most important thing that connects you to your students in a virtual environment is ensuring you are consistently on camera and engaging with the students. I've found that, unlike in many brick-and-mortar schools, there aren't separate student conversations happening while I'm trying to teach, and the students stay on task and interrupt less.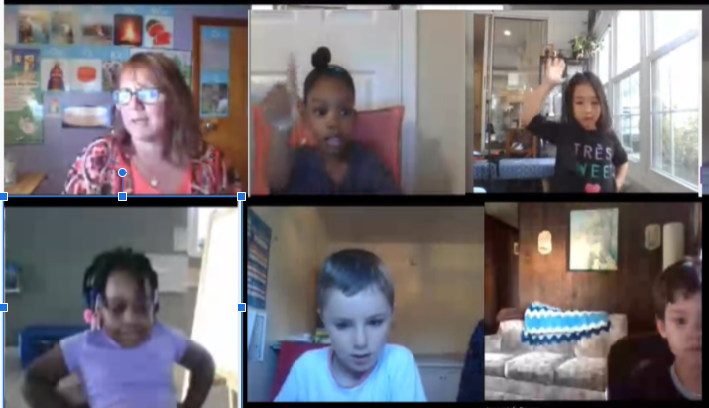 A common criticism of virtual learning and cyber charter schools is the lack of interaction between students, or lack of socialization. This is absolutely incorrect! Students have plenty of opportunities to interact with one another during class, in small groups, in clubs, and, when circumstances allow, at PA Virtual's regional outings and field trips.
One of my greatest joys is watching my kindergarteners engage with one another, though we may be separated by hundreds of miles! With virtual learning, I've actually found that I get to know not only the student, but their whole environment. I interact with them as more than just a student coming to the class; I recognize their immediate surroundings, and note how they respond when in a home-based environment. The Learning Coaches are available, and we have the mutual goal of determining the best outcome for their children.
One Last Tip
For many parents and educators who are fairly new to the virtual learning environment, it's easy to assume that you have to figure everything out yourself. Not so! PA Virtual teachers, for example, are trained to teach online, and can help with the knowledge and resources that will help you succeed. With the ever-changing nature of technology, they may also learn about a new tool from you — and even implement it into their classroom!
Teaching virtually is a unique experience, one that allows flexibility and the freedom to work in a home-based environment. There are plenty of opportunities to connect with coworkers and brainstorm as a team, while still operating independently. We're able to reach students across Pennsylvania, and are supported by a virtual family that is equally passionate. This sense of community was challenging for brick-and-mortar communities last year, as they pivoted from in-person learning to fully online instruction.
As for me, I am able to accomplish much more in a virtual environment, while offering students the same high-quality, dedicated learning experience — and all from the comfort of my home. That's a win-win!

About the Author: Janese Claar is an elementary school teacher at PA Virtual.
---
Want to learn more about working virtually? Check out what our employees have learned working at a virtual school!
Photo credits to Annie Spratt on Unsplash, and Janese Claar.