Subscribe
PA Virtual Charter School's A+ Dedication: Celebrating our A Grade on Niche
Welcome to a moment of celebration here at PA Virtual Charter School! We're excited to share some fantastic news with our incredible community. For over two decades, we've been pioneers in public cyber charter education, nurturing the future leaders of Pennsylvania. And now, our excitement knows no bounds as we proudly announce our A grade on Niche!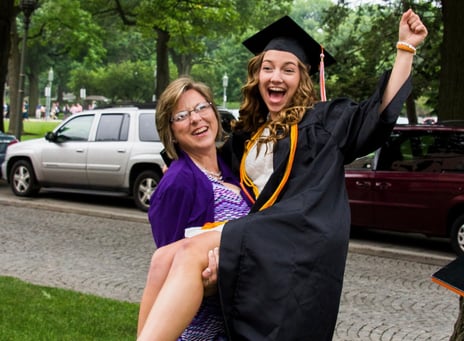 A Collective Triumph:
At PA Virtual, we understand that our success is a collective triumph, and it's not just merely a letter grade. It's a testament to the dedication of our students, the solidarity from our FSC's, the tireless work from our educators, the leadership of our principals, the diligence of our administrators, and the steadfast support of our extraordinary Learning Coaches.
To our Learning Coaches, your unwavering commitment and support play an invaluable role in the achievements we celebrate today. You are the heart of our success, and we are deeply grateful for your dedication to monitoring and assisting in your child's learning. It takes significant effort and care to ensure your children are on the right track, and your role is instrumental in their success. Thank you.
Our Educational Philosophy:
Our educational philosophy is rooted in the belief that every child possesses the potential to shine. Our flexible, home-based education that's as personalized as it is flexible. Our mission is to create an environment where each student can thrive and excel, guided by our passionate educators.
Our seamless approach blending asynchronous and synchronous learning is unmatched. Asynchronous learning lets students study at their pace, while synchronous learning provides real-time interaction for our teachers and students. It's ultimately about recognizing each student's potential and offering families what is best for them while supporting them every step of the way.
A Community That Nurtures Excellence:
Our community is a thriving ecosystem where students are encouraged to reach their full potential. We provide a diverse range of academic and social opportunities from field trips to outings to clubs, but it's through the commitment of our students that these opportunities evolve into success stories. Not to mention with over 30 clubs, ranging from Photography to Coding to the Piece of Mind Club, students will always find a sense of belonging and shared interests that enhance their educational journey.
Shaping Tomorrow's Leaders:
Our commitment extends beyond high school graduation. Through our comprehensive career and college exploration programs, students receive more than 150 hours of preparation by senior year, including opportunities for industry-based credentials. Our career educators and field placement manager guide students in exploring job shadowing, apprenticeships, internships, goal setting, and more. This support fuels our students' success in the future.
Join the Celebration:
At PA Virtual we're about celebrating every achievement, big or small. So join us in this celebration and become a part of our community, where excellence isn't just an ambition; it's a reality here. We're ready to continue shaping the future leaders of Pennsylvania.
Here's to our A grade achievement and the contributions of our students, learning coaches, family support coordinators, educators, social workers, principals, administrators, and families. Cheers to a bright future at PA Virtual Charter School!