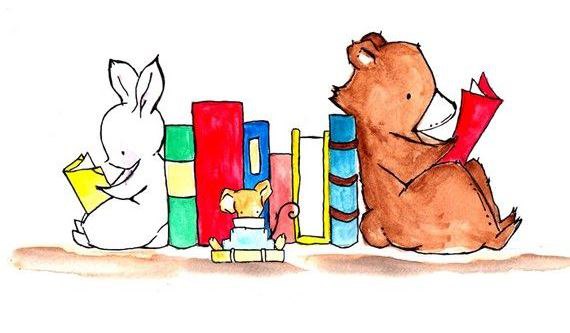 When asked to tell us about their favorite book, the PA Virtual Staff was eager to share! From the whimsical to the wordly, our staff shares with you their favorite books. If you're looking for a new read for your child—or yourself—be sure to check out some of these wonderful titles.
What's your favorite book? Let us know in the comments section below.
Multi-Vote Favorites
Three books in particular (well, two are series) were mentioned by multiple staff members. Here's what they had to say about these two timeless favorites.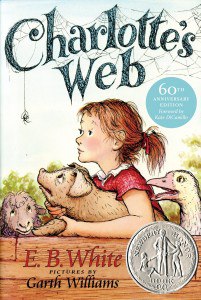 My favorite book of all time is Charlotte's Web By E.B White. This book is about a little pig who becomes famous with the help of his clever friend Charlotte. Wilber really is "some pig".
—Melissa Burns, Third Grade Teacher
My favorite book is Charlotte's Web by E.B. White. Every child wants to live on a farm after reading this book!
—Jennifer Brodhag, Director of Parent Education and Engagement
My favorite book is actually a series. I loved all of the Harry Potter books by J.K. Rowling. It was amazing how detailed she made this magical fictional world and I love how she was able to make a millions of people and children all over the world fall in love and get excited about reading.
—Heather Schaffer, Family Support Coordinator
I love the Harry Potter series by J.K. Rowling. She does a great job of letting the writing age as the characters age. I love the imagery used in the book. Reading the series was even more fun for me because I read most the series while riding the Tube & trains when I lived in the UK. I even got to read a few chapters in The Elephant House coffee shop, where she sat looking at the back of Edinburgh Castle for inspiration for the first book. I also took a walk on Charing Cross to see if I could find The Leaky Caldron!
—Meredith Regul, Operations Coordinator
My favorite books are the Little House Series by Laura Ingalls Wilder. There are 8 books in the series and I got them as a Christmas gift when I was 10 years old. I still have the set along with a doll who I call Laura. I remember after finishing the last book in the series, I cried because I was going to miss reading about Laura Ingalls. I felt like I had lost my best friend. Reading this series of books created my love of reading and influenced my career choice—an English Teacher!
—Diana Perney, 11th-12th grade Principal
My favorite books as a child were the Laura Ingalls Wilder series including Little House on the Prairie. The author, born in 1867 in Wisconsin (where I was also born and raised) shares here memories of growing up during the late 19th century. I can't wait to share Laura's many adventures with my daughters when they get older.
—Dana Marra, Director of Operations
For Little Ones (and Big Ones, too!)
My favorite book to read to my kids is Love You Forever, by Robert Munsch. It reminds me of my relationship with my mother and how she would always say that I would always be her baby. I was able to pass that same message on to my kids. It tugs at your heartstrings and reminds us that we are never too old to be loved.
—Jackie Sieber, Fourth Grade Teacher
Sada (6) and I just finished Danny the Champion of the World by Roald Dahl. I read it for the first time for a "Reading for Elementary Teachers" course and have read it at least half a dozen times since. Rated at 2nd grade and up, but a great read for any age.
—Corbin Anderson, Director of Instructional Technology (A.K.A. "The Video Guy")
My son and I loved reading Alexander and the Terrible, Horrible, No good, Very Bad Day by Judith Viorst when he was a child. Even today, we will refer to a particularly bad day in terms of the misadventures of Alexander. I have seen this story as a play, and we are anxiously awaiting the opportunity to see the movie…but nothing will be as precious to me as snuggling up at bedtime with my son and hearing his laughter at the silly escapades of Alexander.
—Toni Kauffmann, Director of Community Relations and Service Learning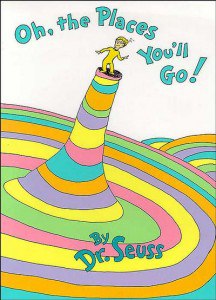 A favorite book of mine is Oh, the Places You'll Go!, by Dr. Seuss. Not only is it a fun book to read to young children, it is also such an inspirational message at any age. I love reading this book to my children and just absorbing the message for myself!
—Katie Daily, High School Special Education Teacher
My favorite book as a child was The Monster at the End of this Book, a Little Golden Book by Jon Stone that featured my favorite Sesame Street Muppet, Grover. My mom used to read it to me with such gusto, and it always made me laugh. I won't give away the surprise ending, but I highly recommend this book!
—Andie Markijohn, Project Manager
My Favorite book as a child was Alpha and the Dirty Baby, by Brock Cole. My mom used to read it to me every night before bed with a charming theatrical voice that would always make me laugh. After reading I would always be so thankful to be fresh and clean, snuggled up in my bed.
—Kellie O'Heron, Operations Coordinator
My favorite book is The Giving Tree by Shel Silverstein. Although this book is designated as a 1st-2nd grade book, I think I have read and re-read it a thousand times as an adult, especially after having my own kids. To me, it accentuated the realization of a loving parent's sacrifices and their unconditional love for their children. The tree represents my own mother and all that she has sacrificed in her lifetime for us. It is impossible to understand or appreciate until we are older and wiser.
—Dana Ciccotti, Family Support Coordinator
For Older Readers and Adults
My favorite book is To Kill a Mockingbird by Harper Lee. I love this story because of the relationship between Scout and Boo Radley and how perfectly Atticus handles the racial tension during the trial of Tom Robinson. Harper Lee is excellent at character development and timelessly relevant quotations!
—Melissa Alcaro, High School English Teacher
My favorite book is The Victorian, by Daria Cyr. Best for adult readers, the book allows you to travel from the 1800's to present day on a journey of determination and hope. You follow the individual paths of a man and a woman and their journeys through time. This book is especially dear to my heart, as the author is my older sister.
—Jessica Dorneman, Enrollment Placement Teacher
If I had to choose just one, I would pick Outliers: The Story of Success by Malcolm Gladwell. I'm an avid reader, so the narrowing format of Gladwell's investigations, where the question under investigation is introduced as a story, then numbers are crunched, and then he finishes the story, really works for me. I ended up incorporating the first half of the book into my LAC 2 class; getting honors students to consider what makes people successful has been a fascinating journey!
—Tammy Bacon, High School Academic Support Teacher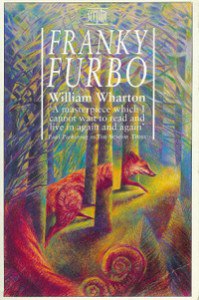 I've always loved Franky Furbo by William Wharton. Like most of Wharton's novels, it's based during and after World War II. However, the main character Franky is a fox, and it's fascinating to watch him learn about the world and interact with very real characters. Franky narrates the story in a way that is high-level enough for an adult, but approachable enough for a young adult. It's such a good read, you'll feel obligated to pass it on once you finish it.
—Jamie Shedd, Senior Enrollment Manager
My favorite author is Sue Taylor Grafton. She is a contemporary American author of detective novels. She is best known as the author of the "alphabet series" ("A" Is for Alibi, etc.); I am currently reading "C" is for Corpse. I started reading the series when I lived in California. When she describes landscapes, she always mentions something related to Los Angeles. The author writes as though you were sitting across the room talking to her or listening to her as she reads her stories, and each series is connected.
—Vicki Andrews-Gilmore, Executive Project Manager
Brother Odd by Dean Koontz was the only book in the series I really liked. It's a slightly creepy, good vs. evil scenario in an interesting setting, best for high school readers and adults.
—Rich Costa, Operations Coordinator, Reclamations and Facilities
My favorite book is The Giver, by Lois Lowry. Although this book is geared towards students in intermediate and middle school grades, I enjoy it every time I read it. I also enjoy The Giver's companion books by Lowry: Gathering Blue, Messenger, and Son because they continue the story in different settings. These books allow me some extra time with the characters!
—Stacey Nichols, Academic Support Teacher